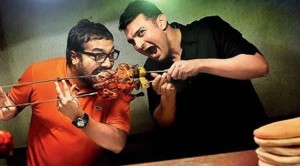 The Bollywood film fraternity has unanimously lauded Indian cinema's first 'foodie' film – UTV Spotboy's Luv Shuv Tey Chicken Khurana, starring Kunal Kapoor and Huma Qureshi. The film also marks filmmaker Anurag Kashyap's entry into the family film genre.
Directed by debutant Sameer Sharma, the film is a family drama with humor as its undertone, and a heartwarming tale of love, legacy, discovery, affection and above all – food. Amit Trivedi has created the infectious musical score.
Here's what the industry said after seeing the film:
Actor Ranbir Kapoor said: "I loved the film. Sameer is a fabulous writer. He tells the story very interestingly. The film stays with you for a long time. There's a lot of happiness and family values. It makes you feel good about yourself. There's no better entertainment than this."
Producer and Director Kiran Rao said: "I loved the film. The mood, performances, the music was great. I've seen very few films like this. The casting, the nuances of each character… it wasn't just underworld and guns; there's family and that was amazing.
Filmmaker Imtiaz Ali said: "I was enamoured by the film and was excited about the first half. I remember being nervous in the interval because I wanted the second half to be as wonderful. And it was amazing… the music, lyrics, direction, performance. I just loved the film so much."
Filmmaker Karan Johar said: "I loved it and think it's one of the most authentically written films. It features some of the best acting seen this year. It could well become the sleeper hit of the year. For the first time, I've seen Punjabi flavour this authentic and funny. Sameer Sharma makes a shining debut. Hats off to him for pulling off a film so mad, and with such panache."
Luv Shuv Tey Chicken Khurana, produced by UTV Spotboy and Anurag Kashyap Films Pvt Ltd, is now released across the UK and worldwide.