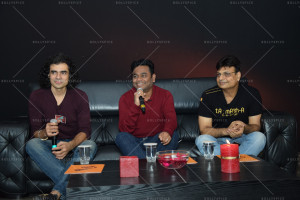 When three creative minds get together to celebrate a collaborative journey of making music, magic happens. This aptly captures the mood of the baithak (music sitting) for 'Tamasha's music that had director Imtiaz Ali, composer A R Rahman & lyricist Irshad Kamil recount their experiences of creating this album. Transiting from the regular music launches, 'Tamasha' music baithak was a beautiful celebration of Irshad's lyrics melting into Rahman's melody to create the magic of a song. Refreshingly, the baithak also had Ranbir Kapoor welcome its participating guests over a surprise skype chat.
'Tamasha' features nine tracks, each one distinctly different from the other. At the baithak, the trio played out the audio of the songs one by one and spoke about them. They took questions and finally it became a casual and free-wheeling chat about the world of Tamasha and more. It worked very well because the focus was only on the audio and it is said that songs last longer than movies!
Rahman, Kamil & Imtiaz have delivered extraordinary music in Rockstar & Highway, songs that lived much beyond the film's run. In Tamasha, this team has used colloquial words in traditional poetic forms to tell hummable stories with each song. Lyricist Irshad Kamil stated that never before has he had such freedom to write lyrics that present human emotions in such different flavours.
But the icing on the cake is Rahman's whimsical yet outstanding compositions. This album surprises with a Mika song for Rahman (Heer toh badi sad hai), makes you hum with a local vocal number (Wat wat wat) & elevates your mood with the operatic, grand Sukhwinder song (Chali Kahani) and "the soul of the film" in Rahman's own voice (Tu koi aur hai).
So far, 'Matargashti' by Mohit Chauhan, the first song released, has become quite popular. Plus the sad Heer Toh Badi Hai! We can't wait to hear what is next!
Produced by Sajid Nadiadwala & Directed by Imtiaz Ali, Tamasha releases worldwide on 27th November, 2015. The film is presented by UTV Motion Pictures and Nadiadwala Grandson Entertainment. The music album released on 16th October. Music on T-Series.