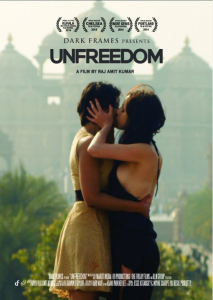 When a film is "banned" by the Censor Board of Film Certification, you know you are onto something. Well, that is exactly the case with Raj Amit Kumar's film Unfreedom.
Homosexuality.

Islam.
Thinking outside of convention.
Unfreedom breaks all the "rules".
The film follows two different lives, the storyline pivoting on a female same-sex relationship and the dangers of religious extremism.
Shifting between New York and Delhi, one story explores the kidnapping of a liberal Muslim scholar by a Muslim terrorist. The other story dives into a woman's journey -a woman secretly in love with another woman. She faces the challenges of this love when she refuses an arranged marriage set up by her religious father.
Classified as "too controversial" for release in India, the film will release in North American theatres on the 29th of May 2015 and simultaneously on digital channels via Film Buff.
The juxtaposition of two bold lives stepping away from societal boundaries powerfully portrays the entwined relationship between religion, violence, sexuality and intolerance. This haunting venn diagram is a sign that the world needs to change.
India recently (re)criminalized homosexuality in 2013 and incidents of rape are on the increase. The Hindu-Muslim conflict has been an unfortunate reoccurrence for centuries.
India's ban upon a provoking film is no surprise. However, Kumar is mounting an appeal and simultaneously launching a crowd-funding campaign to finance a release in India via alternative methods.
Too Controversial? More like too ironic…
Films are intended to move an audiences' heart. Perhaps that is the Indian CBFC's worry.
Written and directed by Kumar, the film stars Victor Banerjee (A Passage to India, Meherjaan), Bhanu Uday (Monsoon), Bhavani Lee, Preeti Gupta, Seema Rahmani (Good Night Good Morning, Loins of Punjab Presents), Ankur Vikal (Slumdog Millionaire, TV Series: "India"), Samrat Chakrabarti (Midnight's Children, The Waiting City, Walkaway), and Adil Hussain (Life of Pi, Gangor, English Vinglish).
LINKS:
Website: http://www.unfreedommovie.com/
Facebook, The Movie: https://www.facebook.com/UnfreedomMovie
Facebook, The Movement: https://www.facebook.com/Unfreedom