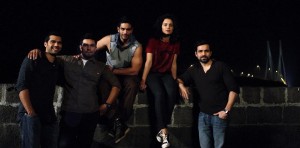 Dharma Productions' recently released Ungli is nothing typical to Bollywood. In fact, Producer Karan Johar states that it is the most unusual film that he has produced till date. The film is a sleek and edgy drama about five friends who want to bring about a change in the system.
What makes the movie interesting is that instead of treating the subject in a heavy-handed manner, it is a fun take on the angst of today's youth. While the Ungli gang fights against the system, they do that in a very exciting and entertaining manner. "I always like my films to have some kind of message in all that entertainment. I think Ungli is entertaining at the same time it has a social angle. So, I would like to call it my low-budget superhero film."
The director has also written Rang De Basanti in the past. Talking about the film actor Randeep Hooda said, "I think Ungli is more like a quirky Rang De Basanti. It has all the elements of what the general public is feeling currently."
Ungli stars Emraan Hashmi, Kangana Ranaut, Sanjay Dutt, Randeep Hooda, Angad Bedi and Neil Bhoopalam in the lead. The film intends to give an interesting take on day-to-day problems faced by a common man and how a gang of five friends (signifying the five fingers) choose to stand up and fight for justice with a very interesting and liberating approach. Ungli released on Friday, November 28, 2014.