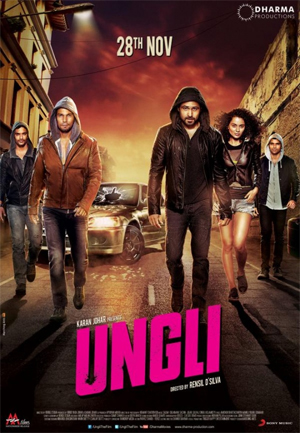 Ungli is an upcoming action drama starring Emraan Hashmi, Kangana Ranaut, Randeep Hooda, Sanjay Dutt, Neil Bhoopalam and Angad Bedi in the leading roles. Directed by Rensil D'Silva, the film is about a group of friends who attempt to transform their home city by making it a crime free zone. Ungli is scheduled for release on 28 November and promises to be an exciting ride for Bollywood lovers. The music to the film has been composed by a range of musicians who include Salim-Sulaiman, Sachin-Jigar, Gulraj Singh and Aslam Keyi. The lyrics have been written by Amitabh Bhattacharya, Kumaar and Majoj Yadav. Is the music to Ungli worth a listen? Read on to find out what we thought of it!
First up we have Pakeezah, which has been performed by Gulraj Singh. I love how the song opens with some nice strumming of the guitar. I think this is a song which takes time to fall in love with. Initially, I had mixed feelings about it but once you listen to it a few more times, it begins to melt in your mind. Huge thumbs up go to Gulraj, who performs splendidly throughout. Overall, a song which opens the album up very well!
Next up is the famous Dance Basanti, which has the very beautiful Shraddha Kapoor making a special appearance alongside Emraan Hashmi. Sung by Vishal Dadlani and Anushka Manchanda, the song has a nice blend of Western and Indian samples which adds to its appeal. Instruments like the flute and what sounds like an Indian guitar complement very well with the Western drum and bass samples. Like 'Pakeezah,' it took me a while to warm to this song, but I think it has been composed with a great deal of thought and it really does make you want to get up and dance. Definitely do give it a listen, as I think it's another major highlight of the album.
Following this we have Aadarniya Ungli, which has been performed by Vishal Dadlani and Neeti Mohan. I didn't enjoy this song as much compared to the former two songs and I felt that it was lacking in zest for me to really appreciate it. Sadly, it just falls flat throughout and found it tough to be able to engage with the composition. Give this one a miss.
Next is Auliya, sung by Armaan Malik. As much as I enjoyed Armaan's vocals, which has nice smoothness to it, I found the song to be bland overall. Some instruments such as the piano do stand out and it does help to give some texture to it. Nevertheless, it was mediocre for me in general and I don't think it has a long lasting effect.
Finally, there is Ungli Pe Nachalein, which has been performed by Dev Negi and Shipra Goyal. This one is an improvement from the former two disappointing tracks and I very much enjoyed the Punjabi elements to the song. Instruments such as the dhol drums do give the song a nice ring to it. However, it is not as flavoursome as 'Pakeezah' or 'Dance Basanti,' both of which have more commercial appeal to them.
To sum up, the music to Ungli was not as satisfying as I thought it might be. I love 'Pakeezah' and 'Dance Basanti,' both of which I consider to be catchy tunes. However, the rest of the songs were more or less a let-down and I was left wanting more. Unfortunately, this one is not as intriguing to listen to in the musical sense and could have benefited from compositions which are stylish and produced with greater thought.