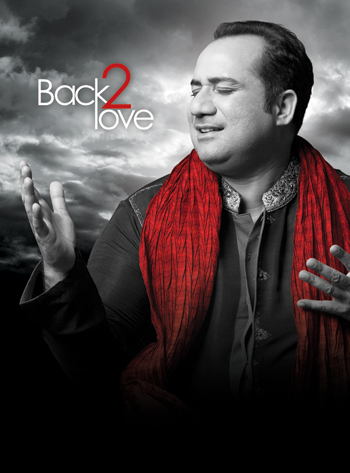 On August 24th, one of the best, Ustad Rahat Fateh Ali Khan, will begin his tour in the UK for his brand new album Back2Love. The 'Back2Love' Tour promises an electrifying performance by the singer, who will not only perform some of his incredible Qawwalis, but also some of his famous Bollywood songs and of course tracks from his new album all about love. The tour commences with a sensational live concert at The SSE Arena, Wembley in London and then continues on Monday 25th August at the LG Arena, Birmingham then travels to Leeds on Saturday 30th at the First Direct Arena.
In a special Q and A before the concert tour, the singer talked about singing live, his new album and all things music!
Talking about performing live he says, "In fact, it is the only aspect of singing I know. Belonging to a family with a legacy of 600 years of music heritage, this is the basics we are taught, which is to sing live."
The singer has great memories of performing at Wembley Arena in 2012 and says he is excited to perform at the fabulous venue once again, "I have traveled the world and I can openly say the SS Arena Wembley remains to be my most famous and liked venue." Adding he thinks this concert will 'be even better'!
His album Back2Love is about every shade of love and encompasses 10 romantic songs. "Back2Love is all about spreading love through and with my music. It is testing times for lot of fellow brothers and sisters and all I want people to do is love each other and get rid of hatred. Life is too beautiful to waste."
What is cool is that this concert "can be labelled as the world premiere of the album live," Rahat Fateh Ali Khan revealed.
Saying he loves his UK fans, he promises they are in for a real treat with this special concert! "It will showcase the "Back2Love" album. Then I have adopted a medley of my super hit Bollywood songs." The singer will also perform other great Bollywood tracks as well as "the evergreen and very popular segment of Qawaali. There are also some very great surprises and it is best if unveiled on the day. I do not want to take away the "surprise element."
"This upcoming tour will be sheer musical magic!"
Getting back to the album, he says the dedicated nine months to creating the album, "It is amazing to see the way it has been loved. In fact, one of the songs, "Zaroori Tha", has just had over 12 million views on YouTube Vevo and has been labelled as the biggest love song of 2014. I am overwhelmed by the response."
http://youtu.be/6-n_szx2XRE
He says he is very lucky with his team and especially his band. "I classify them to be my family. A lot of them, including my younger brother Wajahat Ali, cousin Farhat Ali and others, who have even performed with my uncle and Guru, Ustad Nusrat Fateh Ali Khan, are still there in the group."
Of course, the singer is known for some of the best songs in Bollywood such as 'O Re Piya', 'Tere Mast Mast Do Nain', 'Sajda', 'Dil To Baccha Hai' and 'Teri Ore' to name just a few, and he has more treats for fans coming up. "I have recently done a song with Mahesh Bhaat Saab for one of his upcoming films, one with Sajid-Wajid for a film of Arbaaz Ali bhai, a duet with Kailash Kher and have a half a dozen songs or so in the pipeline."
One our favorite questions he was asked was, 'Qawwali and Sufi music is very enchanting – you have kept the legacy of this music alive, to the enchantment of fans. How do you see this form of music evolving and continuing to appeal, as you are a pioneer of taking this abroad, as did your eminent Uncle, Nusrat Fateh Ali Khan? Please share a key memory of your extensive touring with him.' "There are far too many memories to share," he replied, "One of them I can never forget was that I was the only one who had to wake up at 5 AM (Irrespective of when I went to sleep) to do "Rihaaz" (music practice). Something at that time I found to be unfair that this rule was only imposed on me, but today I look up in the sky and thank my Ustad Nusrat Fateh Ali Khan for putting me through such vigorous training, which in fact helps me even today."
So, will we see his son following in his footsteps? "My son is showing a lot of promise and interest. The rest is up to him and his destiny, but, yes, for sure, it will be a very proud moment if I was able to see my son continue the family legacy."
His advice and message to aspiring singers? "Only one thing, "HARD WORK". Be it practice, concerts, playback belief and hard work is the formula. I know nothing else in life but just to sing. Something I love!"
You can find out more about the concert and how to get tickets here.