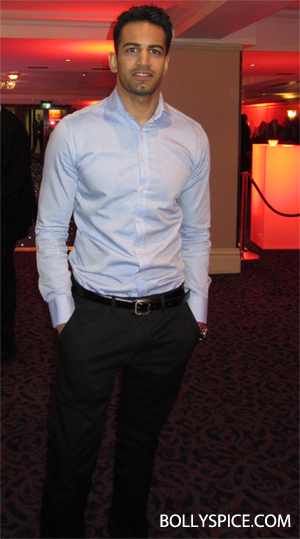 The Asian Awards took place last night at the Grosvenor House Hotel in London and Upen Patel was one of the guests at the prestigious awards ceremony.
We decided to have a quick chat to the London born model and actor, who is best known for his roles in 36 China Town and Namastey London, to find out what he has been up to since his last Bollywood film release, Run Bhola Run.
We are here at The Asian Awards; do you think it is important to hold such awards ceremonies here in the UK?
I think it is fantastic because when I used to be in the UK there was nothing like this around, I think it is great you can showcase and honour peoples talent. I think Asian's are doing so well in different varieties of stuff, whether it is entertainment, sport, business and it is great to honour those people. It is such a huge and prestigious event. It is a great thing; it is my first time experience here so it should be good.
We haven't seen you on the big screen for a year, can you tell us about any upcoming film projects you are working on?
I am doing a film called I, it is a Tamil film, starring me and Amy Jackson. We are currently doing that. We have been shooting that for one year hence why I have been unable to do any other films. I finish that film in September if it goes to schedule. Then I can start doing other films – I am contracted to only do that film.
Can you tell us more about the film?
It has got A. R. Rahman doing the music and Shankar is directing it. He did Robot with Aishwarya Rai and Rajinikanth. Vikram is also in there. We are shooting in China, Chennai. The special effects are by Peter Jackson's company in New
Zealand, so it is a huge project. I can't tell you anything else about the film. I can't tell you my name, my character, what the story is about, what the film is about. Unfortunately I can't, I would love to tell you!
What else have you been up to in the UK, apart from of course attending The Asian Awards?
I have just signed to an agency, Models 1. I just did a campaign today with a girl called Leah Weller. We shot for a British menswear design campaign today, which is really good.
Which designer?
His name is Peter Jeun Ho Tsang. It will be out soon, they are releasing the images in the Daily Mail next week so it will be out.
Finally, do you have a message for your fans?
I love you, I am coming back soon on screen, support me (laughs)