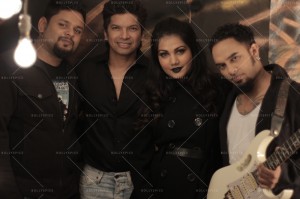 What do you get when you bring together the incredible singer and lyricist Shaan, the killer music director and musician Gourov Dasgupta, and Roshan Balu's mad (in a brilliant way) music production? You get a new sound and a new band called Superbia. Not only will they be bringing their unique flavor of music to the movies and to ads, they also are getting ready to rock your musical world with cutting edge electro rock music on their albums and concerts. Joined by Gwen, the band will drop their first album titled Satrangi on November 7th.
In a cool, heartfelt and of course fun and wicked interview, Gourov gave me the scoop on what we can expect from Superbia! Check it out!
How excited are you for your new project?
Extremely excited! This is one of those ventures where all of us have given our heart, mind and soul and the result is pure joy.
How did Superbia come together?
Superbia came together early 2013… Gourov and Roshan have been working together for almost 8 years on various movies, ads, and albums. It all started when Shaan was dubbing for one of Gourov's tracks for an upcoming film. The three hit it off instantly. Many recording and jamming sessions later they decided to come together as Superbia and make music 360 degrees.
Why the name Superbia?
Superbia means 'pride' in Latin. Somehow Shaan, Gourov and Roshan all mean 'pride' in a certain sense so the name was apt!
How would you describe the sound of Superbia?
Cutting edge electro rock music, which is hard hitting yet strongly musical, youth centric and contemporary – with lush vocal textures and virtuoso guitar work.
The music we create for our films showcases a completely different side of the band.
What influences have brought together the music, the riffs, the grooves and the vocals of Superbia?
Each one of us have a distinct background in our musical roots. Shaan is influenced by artists ranging from Stevie Wonder, Aerosmith, John Legend to RD Burman and Mehdi Hassan. Gourov, of course, is into Steve Vai, Megadeth, Dream Theater, Nine Inch Nails, Sting and the like. Roshan's influences range from Disturbed, Winger, Whitesnake, etc. So imagine the soundscape if all of this comes together!!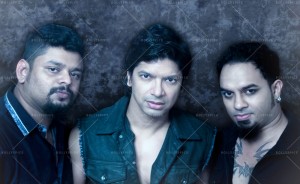 Tell us about working with Shaan.
Besides being one of the greatest voices of India, Shaan is actually one of the nicest and kindest people I've known. He has been a great and positive influence on all of us (he managed to make me quit smoking and drinking for good!!! Unbelievable!)
As a partner and musician he is like a pool of musical ideas always willing to take a plunge in order to create something new and magical. His vast and in depth knowledge of his craft brings in a different side to the music of Superbia. Besides amongst the three of us, he's got the most mad sense of humour!
How did you know that you had something unique and cool when you, Shaan and Roshin Balu came together?
We knew we had something cool when we started drinking less and working more… LOL. Plus we started getting lots of offers to take up new projects. The result of the collision was pure magic and it felt 'right' deep inside.
What do you think each of you bring to the table?
Shaan gets the stand up comedy, Roshan gets the booze and I get the food menu…what else can u ask for? LOL, jokes aside, Shaan and I generally come up with the tunes, then Roshan takes care of the music production. In the meantime, the lyrics get taken care of under Shaan's supervision. Then we lay down the guitar and vocal parts; it's just one of the ways we work! We have a great team working with us as well and they make us sound better! Chaos never has any theory…
You have an album coming up Satrangi, what will we hear?
A beautiful fairytale with goth, electro, dubstep and rock undertones married to some of the evergreen classics from yesteryears.
Reading this intrigued me; "Each of the seven colors that adorn this album is a fairytale in its own right which takes you through an endless journey of human emotion." Can you go into more detail of what that means.
Satrangi means Seven Colours. The album has seven tracks capturing seven different moods and emotions. The album releases on the 7th of November as well.
Tell us about working with Gwen on the album
Gwen happens to be a former Miss India Asia Pacific/VJ/actor and this is her first step into singing. I discovered her in the elevator on a Sunday morning when she was on her way to church! She's got a very unique vocal texture that sets her apart from most of her contemporaries. When Adarsh Gupta, head of Saregama heard the track he flipped and wanted us to work on an entire album. I don't think Gwen has still come to terms with the fact that she's just finished recording an entire album with Superbia!!
Shaan has played a huge part in guiding her during the recording process helping her with her confidence in the studio. We've also got her to go for Indian classical classes gearing up for all the live gigs. It takes a lot for someone who's completely from a different profession to take such a huge step and excel and Gwen has certainly done a fab job!
What does she bring to the sound of Superbia and Satrangi?
She brings honesty and hard work.
Do you have a favorite track?
Satrangi is the 1st track we composed and is definitely closest to the heart..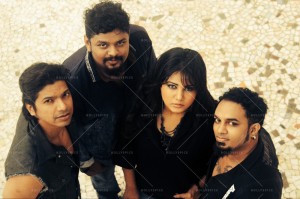 This is something I think you have wanted to do for a long time, how does it feel that it is coming together and you can release your music to the world?
I always wanted to work on something, which had a commercial vibe yet was completely honest musically. On films, we generally have to follow a brief and compliment a situation. In this case, we were the only people judging our art. We were the critics and the makers. We pushed our boundaries to see how much we could experiment and achieve. We must have worked on at least 12 tracks before shortlisting the final seven. We worked with our own timelines so that there is no compromise at the creative level. The record label Saregama is the best and most supportive label to work with and they supported the whole process with all their heart.
The independent music scene in India outside of Bollywood is not as well known would you agree? Is that changing?
Non-film music was really popular in the 90s and had its own identity. Stars like Shaan, Sonu Nigam, Daler Mehendi emerged from that scene and still have a humongous following. But later the scene got diluted with a lot of worthless artists trying to dilute the line between Bollywood and non-film music and it took a beating. But now everything has gone full circle and non-film music is coming back big time with labels willing to invest in artists – be it music videos or online marketing things are certainly looking up. With Satrangi we plan to get back the 'non-film' genre back to mainstream.
What do you hope to achieve with this new band?
We plan to make music 360°. We wanna perform and connect with our audiences worldwide. Make an impact with our unique soundscape and leave a lil bit of Superbia in everybody's heart….be it films, ads, albums, live gigs…we are here to rock your world!!!
Will you go on tour and do concerts for Satrangi?
Yes…post the launch we are looking at a full tour in support of the album.
What do you love about the music of Superbia and Satrangi?
The fact that it's untainted by anything. Each track has a bit of us. It's all heart. It's pure. It's as honest as it can get. Besides I can do my 8 finger tapping here and there without anyone complaining!!!!! LOL
I can't wait to hear the riffs, the vocals, the jam that will be Superbia! Watch for their album Satrangi to drop on November 7th!