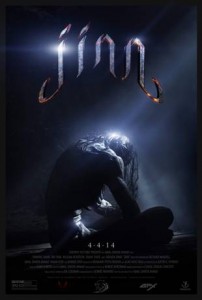 We have news of an exciting for our US readers new contest being held by the makers of the new supernatural adventure JINN which releases in theaters next week on April 4. And the prises they are out of this world, to fit the movie of course!
They are giving away a FREE Xbox or iPad! Yes, you read that right! You can enter the contest by clicking:
http://www.JinnTheMovie.com/contest/
Directed by Ajmal Zaheer Ahmad, the film explores the secrets and ancient mythology that half the world already believes.
It tells the story of Shawn (Dominic Rains), an automotive designer, who enjoys an idyllic life with his new wife Jasmine (Serinda Swan) until it is interrupted by a cryptic message. The message warns of imminent danger and a curse that has afflicted his family for generations. Having lost his parents as a child, Shawn doesn't believe this unsettling revelation of his past….until strange things start to happen.
Unable to explain the threats and fearing for his life, Shawn turns to Gabriel (Ray Park) and Father Westhoff (William Atherton), a mysterious duo claiming to have answers. With their help, and the aid of Ali (Faran Tahir), a shackled mental patient, Shawn discovers that there is far more to this world than he ever imagined. These revelations set Shawn on a collision course with the unknown, and he alone must find the strength to protect his family and confront the ancient evil that is hunting them.
Check out the supernatural thriller trailer!