Midnight's Children an epic film from Oscar-nominated director Deepa Mehta, based on the Booker Prize winning novel by Salman Rushdie (who also wrote the screenplay) boasts an all star cast including Satya Bhabha, Shahana Goswami, Rajat Kapoor, Seema Biswas, Shriya Saran, Siddharth Ronit Roy, Rahul Bose, Kulbushan Kharbanda, Anita Majumdar, Charles Dance, Soha Ali Khan, Zaib Shaikh, Shabana Azmi, Anupam Kher and Darsheel Safary. Talking about the film, the director said, "It is a coming-of-age story, full of the trials and tribulations of growing up, and of the terrible weight of expectations. What separates it from other thematically similar films is that this coming-of-age story is not only about a boy but also about his country, both born at the very same time at a pivotal point in Indian history. Saleem's journey as our vulnerable, misguided hero is always intertwined with the struggles of the newly independent India, as it finds its own voice in the world."
The critically acclaimed film released in the US in New York City on April 26th and today expands to theaters in LA and Washington, DC! Later in May, the theatrical release for the dramatic film will expand even further. In celebration of the US release we have an exclusive contest!
As a special treat, just for our US readers, you can win a full-size theatrical poster autographed by both Deepa Mehta and Salman Rushdie. All you need to do is answer this question:
Who wrote the book and screenplay for Midnight's Children?

Send your answers, along with your name and address to editors@bollyspice.com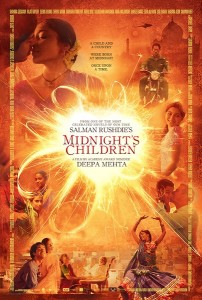 Synopsis: "Born in the hour of India's freedom. Handcuffed to history."
At the stroke of midnight on August 15, 1947, as India proclaims independence from Great Britain, two newborn babies are switched by a nurse in a Bombay hospital. Saleem Sinai, the illegitimate son of a poor woman, and Shiva, the offspring of a wealthy couple, are fated to live the destiny meant for each other. Their lives become mysteriously intertwined and are inextricably linked to India's whirlwind journey of triumphs and disasters.
From the unlikely romance of Saleem's grandparents to the birth of his own son, Midnight's Children is a journey at once sweeping in scope and yet intimate in tone. Hopeful, comic and magical – the film conjures images and characters as rich and unforgettable as India herself.