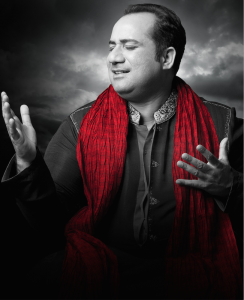 Following Nokia MixRadio's expansion and partnership with Bollywood icon Priyanka Chopra into India, their expansion continues to Dubai. Partnering with Rahat Fateh Ali Khan, an exclusive launch event in Dubai will be held where his latest material from his studio album "Back2Love" will be showcased. Not only that, to help pave the way in the world of global music streaming, Rahat Fateh Ali Khan will also present his personally created Nokia MixRadio playlists, which will be available to over 31 countries.
Rahat Fateh Ali Khan has sung some of Bollywood's most beloved hits including 'Teri Meri' (Bodyguard), 'O Re Piya' (Aaja Nachle), 'Tere Mast Do Nain' (Dabangg), 'Tere Bina' (Tezz), 'Sajda' (My Name Is Khan), 'Jag Soona Soona Lage' (Om Shanti Om) and 'Saaiyaan' (Heroine) to name just a few. Not only known for his Bollywood music, the singer is also a maestro of Qawwali music and has released many studio albums. He has also sung for many Hollywood projects and has performed in sold out concerts all over the world.
Speaking on the occasion, Ustad Rahat Fateh Ali Khan said, "It was great to experience what Nokia Mix Radio is all about and being part of such a platform is overwhelming. I want my album "Back2Love" to reach out to the masses and global audience. Nokia Mix Radio is surely the best way forward for this. The producers of this album, Salman Ahmed and MD of UMI, Devraj Sanyal, have been instrumental in making this happen. There are two amazing videos as well which I am sure will be loved by all my music lovers."
Stay tuned we will be at the exclusive Nokia MixRadio event and will bring you a full report plus a bonus interview with the singer himself!