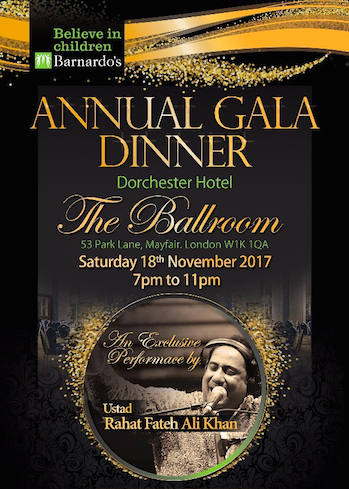 Globally reknowned Qawali singer Ustad Rahat Fateh Ali Khan will perform a special intimate set at London's world famous Dorchester Hotel this month, as part of a fundraising gala for Barnardo's. The gala event takes place on Saturday 18th November and will see an array of stars grace the red carpet at the iconic Dorchester Ballroom.
The event, conceptualized by PME, will see business leaders and gatekeepers from the British Asian community come together to give back to Barnardo's, the UK's largest and most recognized children's charity. The charity has helped hundreds of thousands of vulnerable children and the unique event offers attendees a chance to join a roster of incredibly talented and dedicated ambassadors and supporters, in an effort to truly give back to children in the UK.
Ustad Rahat Fateh Ali Khan, a global ambassador for Barnardo's, will perform a special 90 minute Qawali set to enthrall attendees. He joins a stellar list of ambassadors for Barnardo's including Hollywood stars Daniel Craig, Rosamund Pike and Andy Serkis, as well as Bollywood star Salman Khan, who was announced as an ambassadorin September.
Ahead of the event, Rahat Fateh Ali Khan says: "I am delighted to be performing for Barnardo's, a very important charity for children in the UK. It's time to give back and support this fantastic organization and I can't wait to participate in a very special night taking place at the Dorchester in London. I look forward to continuing a long standing relationship with the charity."
Javed Khan, CEO, Barnardo's, adds: "We are proud to be associated with Ustad Rahat Fateh Ali Khan and his team, who are organizing what will be a fantastic night of giving. Fundraising events such as these always have a special place for Barnardo's and this one even more so to me personally, because it marks the charitable contribution of the UK's South Asian community. I look forward to a wonderful night."
Celebrity guests expected to attend the gala event include Sanjeev Bhaskar, Meera Syal, Andy Serkis, Nicola Roberts, Jenny Campbell, Lydia Bright and many more.