February – The month of Luuuuurve. The month where every film channel goes nuts showing Hindi cinema's most romantic films…the radio channels go nuts playing the dulcet tones of Sonu Nigaam, Alka Yagnik and everyone else in-between, and their various romantic numbers and the music channels swing between the sexy videos and the romantic videos. Why? All because of Valentine's Day. The day for which businesses get a free license to decorate their premises with pink and red hearts and cute babies in nappies pointing a little arrow at you. And why would the film industry not join in with the madness with romantic or psycho-romantic films releasing in time for the big day.

The Hindi film industry has a lot to answer for in my opinion when it comes to romance. Hindi cinematic releases always show the perfect romance. The perfect location, the perfect setting, the perfect food the perfect partner…pick any Hindi film…I can name a few if you are struggling. Dostana – Priyanka Chopra and John Abraham have a perfect date and then Priyanka Chopra and Abhishek Bachchan have a perfect date…a perfect date of epic proportions. How many of us can honestly say that we have had a date like Priyanka and John in Dostana? Anyone? Priyanka and Abhishek? No one? Okay how about another film…Dil Bole Hadippa…Rani Mukherjee and Shahid Kapoor and their Dhabba date. Anyone experience anything like that? Yes in Filmdom all of this is possible and I hold the Hindi film industry completely responsible for spoiling me with ideas of larger than life romance that aren't always possible because something called reality gets in the way. In my life my reality is my 12 and a half month baby girl who has her own agenda. And what an agenda it is.
The thing with most Hindi films is that it shows a young couple in the throes of their romantic journey. The ideal is a candlelit dinner gazing into your beloveds eyes talking sweet nothings…a la any Yashraj film. What no Hindi film shows is what happens when two become three and your world is hit by a meteor that weighs approximately 3kg and takes command of both of your lives.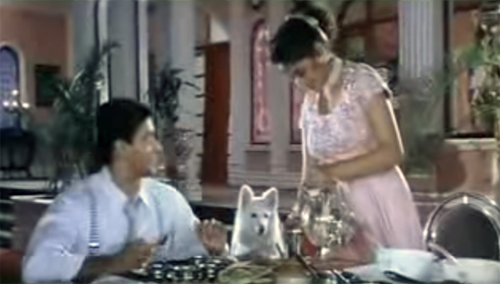 In the film world a Nisha waits lovingly for a tired Prem to return from work and serves all his favourite dishes lovingly made with her own hands as in Hum Aapke Hain Kaun. The reality of a highly anticipated romantic evening is a baby screaming in the background and you having given up making dinner and ordered a pizza which you are munching away at in your track bottoms and a sweatshirt you borrowed from your husband as baby has thrown her food at you for the nth time, possibly ruining the only dress that fits properly post pregnancy. The icing on the cake is when hubby walks in with a pack of nappies instead of roses. And you are excited seeing the nappies.
Would a Hindi film show this scene? David Dhawan might have done…but even in his films the wife is perfect. ..The children are perfect. ..The romance is perfect and biwi number 1 is the perfect example how again reality is missing unless you count the affair and the kids only misbehaving to get rid of the other woman in daddy's life.
I am pretty sure even Simran would have had second thoughts when Bauji told her to 'jee le apni zindagi' if someone had told her that the romantic moments between Raj and her would be scheduled around baby's sleep schedule and that dinner for two may become dinner in shift patterns as someone would have to stay with baby and entertain her/calm her down should she burst into tears. Either way someone is eating a cold dinner.
The only film I can think of that has released recently that even begins to cover the dangerous territory of trying to have even a hope in hell of a romantic life with a baby is Shaadi Ke Side Effects and even that wasn't done brilliantly, though it did manage a couple of smiles out of us in relation to the immediate aftermath of having a baby.
In all honesty I adore how Hindi cinema portrays romance. The larger than life declarations of undying love, the promises to stay together and if not stay together then to meet in heaven (SRK and Madhuri in Devdas) or meet before they die (Nafisa Ali and Dharmendra in Life in a Metro). I love it all and my husband will second my madness behind certain Hindi films and actors. I just think that as your life changes your parameters for romance change too.
Romance once you have a baby doesn't mean a candlelit dinner – it means remembering that the man you married flew halfway across the world to spend a birthday with you, something Raj did for Simran right? It means remembering that he has always supported you in your crazy half baked ideas and at times encouraged you to break the mould and follow your dreams and made them his dreams too, something Juhi Chawla mentioned in Salaam–E–Ishq…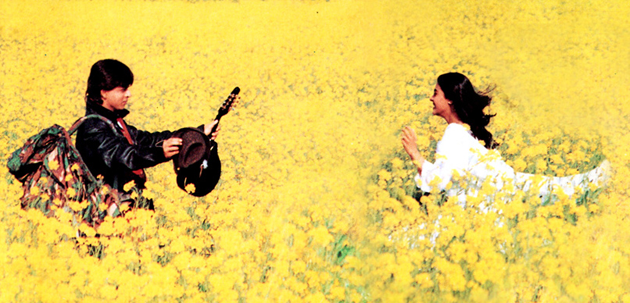 I have been told recently when I was talking about this article that I am too cynical, and characters like Raj and Prem do exist, that I have to look closely, that life is a fairytale, it's one that hasn't been read yet (Thank you Jaz), and I have to admit that I stand corrected. Raj and Prem have sort of combined in the form of my husband. The romance in my life may not be on epic proportions like a Hindi film but it is there in the small things…the cups of tea and offers of breakfast when lil' miss has kept me up all night, the offer of a take away when I have had a hard day with a relentless baby who wanted to stay stuck to me like super glue making going to the bathroom seem nothing short of a miracle.
So I will end by borrowing a line from Nikhil Advani's Salaam–E–Ishq, and it's a line that is so very true. The sleepless nights that both of us have shared with crying baby only adds to the real meaning:
Pyar har waqt saath rehta hai … kyun ki pyar waqt se nahin, usse kiya jaata hai jiske saath waqt guzaarte hain
Wishing you all a Very Happy Valentine's Day – BollySpice Style.