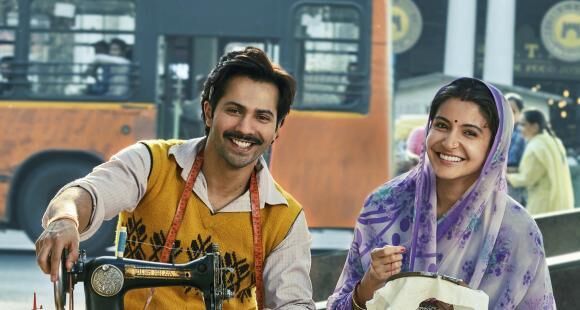 Varun Dhawan plays a local tailor named Mauji and Anushka Sharma an embroiderer, Mamta, from heartland India in YRF's upcoming entertainer Sui Dhaaga – Made in India. To perfectly portray their roles on screen, Anushka and Varun ensured that they prepared well and got into the skin of their characters. They needed to learn new skills including Handloom, Block Printing, Weaving with the help of charkha, stitching, sewing on machines, embroidering and dyeing of clothes to ace their roles!
"Sui Dhaaga has made me a better artist. I have never learnt so many new things for a film and these skills helped me get into the psyche of my character, his life and struggles. Mauji is a dreamer who wants to make a name for himself and win the love and respect of his wife, Mamta, and his family. In order to achieve his simple dreams, Mauji has to learn various aspects of tailoring, weaving and handloom," Varun says.
Anushka adds, "It was an extremely fulfilling experience to learn these new skills while becoming Mamta. As an artist, I look to seek out new experiences and Sui Dhaaga gave me the opportunity to pick up such amazing and different skills that I would have never learnt otherwise. I had to learn the Charkha, which is just used to separate the yarn. I did a crash course at block printing. I learnt embroidering. It was a challenging yet creatively nourishing experience to work in this film."
Director Sharat Katariya wanted to capture the genuine small town essence in his film and went all out to make it as authentic as possible and in fact had the stars shoot at midnight to capture the essence of the life of these two characters.
Anushka says, "Craftsmen work day and night and Sharat wanted to show how a craftsman in such places would work through the night. We learnt that many use the bright street lights to aid their professional needs and we wanted to capture this in the film."
Varun says, "These talented artists generally go on the roof of their houses and start working at night. Mauji and Mamta's character takes a leaf out of this dedication, ambition and entrepreneur spirit. We shot some sewing and embroidering scenes using the streetlights of Chanderi and they are really touching. Sharat has got some very heartfelt moments while shooting these scenes."
Varun and Anushka have been paired for the first time together and they have definitely become the most awaited on-screen pair of 2018. Yash Raj Film's entertainer Sui Dhaaga – Made in Indiabrings together National Award winning producer-director combo of Maneesh Sharma and Sharat Katariya after their blockbuster Dum Laga Ke Haisha. The film is a salute to the inherent entrepreneurial spirit that the youth of India and our local artisans have. Sui Dhaaga – Made in India is set to release on September 28 this year.