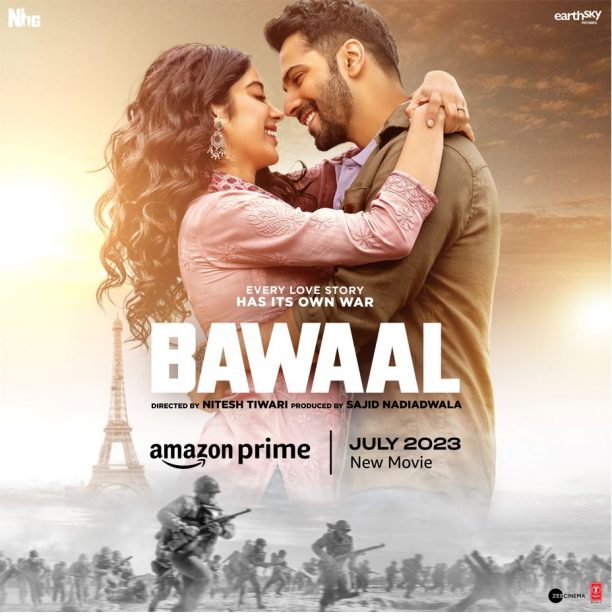 The highly anticipated film Bawaal, a love story is getting ready to drop on Prime Video. Directed by the much acclaimed Nitesh Tiwari, Bawaal features Varun Dhawan and Jahnvi Kapoor who will be seen on screen for the first time together. The film was produced under Sajid Nadiadwala's production banner Nadiadwala Grandson Entertainment in collaboration with Ashwiny Iyer Tiwari and Nitesh Tiwari's Earthsky Pictures.
Director Nitesh Tiwari said, "Shot across three Indian locations and five European countries, Bawaal has a captivating storyline, dramatic visuals and absolutely amazing chemistry between the lead talent Varun and Jahnvi. I believe that the worldwide premiere on Prime Video will help us take Bawaal to audiences in India and across borders. We have worked with immense passion and commitment to bring this film to our audiences and now we can't wait to hear their reactions."
"Prime Video is absolutely delighted with the opportunity to take one of the country's most renowned directors, Nitesh Tiwari's labor of love Bawaal to audiences in more than 200 countries and territories with a worldwide launch," said Manish Menghani, director of content licensing at Prime Video, India. "Bawaal is the first film from Nadiadwala Grandson Entertainment to premiere directly on Prime Video globally, and we thank Sajid for trusting us with this very special film. Bawaal is an extraordinary story with universal appeal, powered by brilliant performances by Varun and Jahnvi. Set in the heartland of India, the gripping narrative takes viewers on a never-seen-before journey through Europe. We believe that a film that is rooted in India but has a global appeal deserves to reach customers not just in India, but all across the world. We cannot wait for Prime Video audiences to enjoy this beautiful film."
Producer Sajid Nadiadwala said, "Bawaal is a very special film for me, and one of my most ambitious projects. It has been an absolute joy to produce this film which has been directed by my most loved filmmaker Nitesh Tiwari with Varun and Jahnvi giving their very best, in their first film together. I am very proud of Bawaal, and I am thrilled to announce its worldwide premiere on Prime Video this July. I am excited by the prospect of this film breaking down the barriers of geographies and reaching audiences in more than 200 countries and territories simultaneously. This story deserves a grand worldwide premiere and I am delighted to have joined forces with Prime Video which has an incredible global reach."
Reports are the film will begin streaming on July 21st and that it will have an epic premiere event at the Eiffel Tower. Stay tuned!