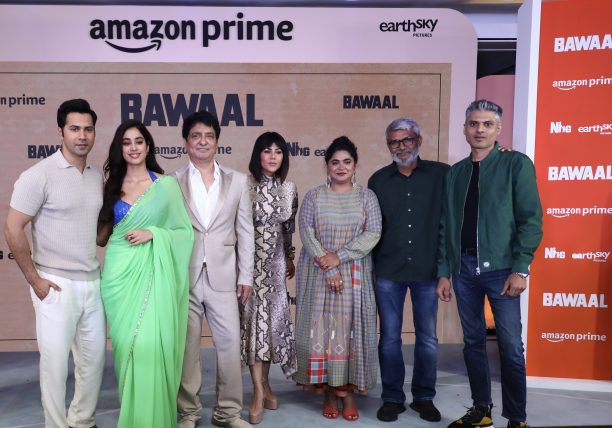 The global premiere of the trailer for the timeless love story Bawaal was showcased at a grand event held aboard the magnificent Queen Elizabeth II in Dubai. We were there virtually and will have much more on the event including quotes, pictures and maybe even a video so watch this space for much more! But here are some deets about the film and of course the trailer!
Directed by the much acclaimed, visionary – Nitesh Tiwari, and starring Varun Dhawan and Janhvi Kapoor, Bawaal is an intriguing story that will premiere exclusively on Prime Video worldwide on 21 July.
Bawaal revolves around Ajay Dixit, an ordinary albeit popular high school history teacher Ajay Dixit, also known as Ajju bhaiya, who enjoys mini celebrityhood in his town, courtesy the fake image he has built about himself. Circumstances compel him to embark on a World War II trail in Europe, and he is forced to take along his newly-wed wife Nisha, with whom he shares a strained relationship. What follows is a series of events that test his marriage and force him to confront the biggest war of them all- the war within. Shot in India and multiple international locales, this love story has a meaningful message.
Director Nitesh Tiwari said, "Great love stories deserve to be experienced and they always find a medium to reach an audience. Over the years, some of these stories have become true epics, not because of a grandiose scale but because of the heart-stringing, gut-wrenching essence that makes the audience feel every emotion. Bawaal is an Indian film which will appeal to audiences across the world. It will make you feel the jitters of nervousness, the joy of togetherness, the pain of separation, and so much more. Varun and Janhvi have brilliantly portrayed the roles of Ajju and Nisha, taking you on a journey from small-town India to Europe, that will leave an indelible mark on your hearts and mind."
"A definitive landmark in my career, Bawaal has been a challenging journey for me, but it has also been one of the most exciting and an extremely rewarding one too. Despite his popularity, Ajju is constantly warring with circumstances beyond his control. A character so intricately woven but literally a bawaal within and all around, that it will hold a special place in my heart. I just cannot wait for the audience from all across the globe to watch and experience this unconventionally beautiful romantic tale of Ajju and Nisha. Dubai is like a second home to me, and I couldn't think of a better place to kickstart promotions for this global film with an Indian heart," said Varun Dhawan.
Janhvi Kapoor added, "As actors we play roles that are either made for us, or ones that we adapt to. But rarely do we get the opportunity to embody a role so coveted that offers an actor more scope to perform. In this unique romantic tale, Nisha is seemingly a simple girl with hopes and dreams, but she's so endearing that she makes you want to feel every emotion that she is experiencing. In Bawaal, Nisha is taking a journey that will make you look beyond the surface into her life, her love, and everything in between."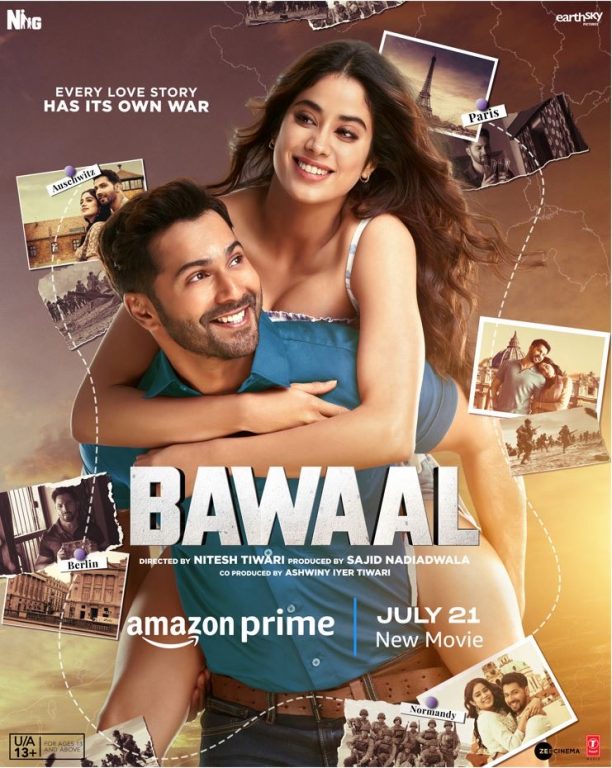 Manish Menghani, Director of Content Licensing, Prime Video India said, "Bawaal is an exceptional film, that is truly meant for the global stage, and we're taking it to an audience that spans across the globe by launching the trailer here in Dubai today, and premiering the film in over 200 countries and territories on July 21. At Prime Video, we're constantly looking for stories that push boundaries and scale new heights in our endeavor to satiate the entertainment needs of our customers. We do not stop at just that, offering high quality narratives from exceptional storytellers such as Nitesh Tiwari is at the heart of our content offering and is evident through our successful collaboration with Sajid Nadiadwala to bring an enthralling film like Bawaal to our customers. We're excited to see how many more milestones this film helps us cross when it premieres on Prime Video."
Producer Sajid Nadiadwala said, "Bawaal is a story that will be regarded as an epic in the time to come, and it truly deserves to be watched and enjoyed by audiences all over the world. Partnering with Prime Video to premiere the film in over 200 countries and territories, and now launching the trailer in the magnificent city of Dubai, is a testament to our ambition of reaching a global audience. We're thrilled to be here in Dubai today, and can't wait to see the world fall in love with Bawaal, when it premieres on Prime Video on 21 July."