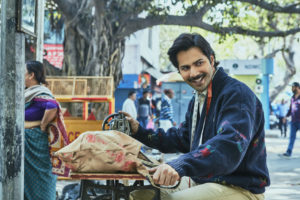 Since he first stepped on the screen in as Rohan in Student of the Year, Varun Dhawan has been entertaining audiences with his wonderful performances. Through many great roles, and hit films, the young actor is one of the new generation of stars that make Hindi films so great.
Varun takes on a new challenge playing a tailor in Sharat Katariya's Sui Dhaaga: Made in India. A heartwarming story of pride and self-reliance, Sui Dhaaga finds its roots in the heart of India and reflects the passion that runs through the veins of every single Indian. Taking the message of "Made in India" forward, the film modestly tries to bring back our traditional art forms and handicrafts in focus. Also starring Anushka Sharma, the film is full of heart, comedy and soul.
To set the scene here is the trailer:

In this wonderful Q and A, Varun talks all things Sui Dhaaga including how he became Mauji, how it was to work with Anushka and what he hopes audience will take away with them when they see the film.
What were your first thoughts when you heard the narration of Sui Dhaaga-Made in India?
So I cracked up a lot while reading this. This is a very, very funny film and it has these emotional moments as well. So I was dying to do this film. I was really, really excited about it. The humor was something that attracted me towards the film. That was one of my big takeaways from this film. I thought I can't let this film go. I need to do this character because the humor was very effortless.
How did you become your character Mauji?
So I spent around 3 and a half months with this tailor called Noor-bhai and Darshan Jalan our designer learning how to stitch, learning how to fill a bob pin, learning how to thread a needle. I made blouses, shirts, pillowcases, many different things that I needed to make for the film, different patterns, change the needle if it broke. I've made a shirt for my dad or for someone else or the other. Basically, assemble and de-assemble a machine, a sewing machine and then the industrial machine is very different from that as well. I've never done this ever in my life, but obviously doing this film I ended up doing it quite a bit. Also the clothes, growing a moustache, these are all part and process of becoming Mauji – Mahender Singh is his full name, it was quiet cool. I've never dressed like that. It is a full character. I am hoping he can win everyone's hearts.
He is a different character than we have seen from you before; what was the best experience of playing this character?
I think the fact that I could be this guy who is always fun loving, people are going to laugh on me, they are not going to laugh with me. Eventually he is like the underdog. He is a looser underdog but people will root for him at the end. I like that.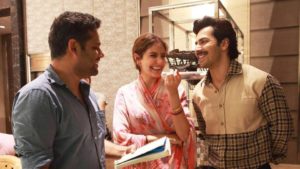 Tell us about working on a film with Anushka Sharma.
I think because we were part of this journey together we did bond very well, I think she has a very quirky sense of humor and I think that humor made us friends. Also she is brutally honest and that is something that made us get along as well. She is a very lovely person and a very, very supportive costar. You know, she is one of the most supportive costar's I've ever worked with. A complete team player. You know, I think how Mamta wants Mauji's respect I think Anushka always wanting me to respect myself more.
How was it to work with director Sharat Katariya?
Good, good, good. He's a really good guy. Very stubborn but good guy.
This film certainly has had many cool promotions, what are your thoughts on that?
It has a lot of cool promotions. And we have broken new ground with it. I think this time marketing has come up with a lot of cool stuff and it has been fun. It has been very long – the promotions, I have to say that, honestly. Six weeks is a lot of time. So I am just hoping now, so many people all go to the theater and enjoy.
Tell us about the music of the film, do you have a song that just is the movie to you?
I think 'Sab Badiya Hai' by Anu Malik a track sung by all the Indian Idol contestants and Sukhwinder Singh. That is the track.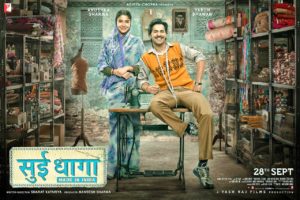 What do you want audiences to take away with them after seeing this film?
I want them to have a great, great time when they go watch the film. I want them to realize how important family is when they watch the film. So I want them to take back these characters of Mamta and Mauji fully.
What would you say is the message of Sui Dhaaga?
Zindagi ki life mein maarna padega pedal chahe mile ya na mile medal. It does not matter whether we are going to win the medal or no in the race. What matters is that you try and you really try from your heart.
Looking back over the whole experience from first narration to filming, to promotion what would you say about your experience?
I think the film has pretty much turned out to what I expected it to be. It is pretty much that. And I think we've got the message out there. A lot of people, all across the world, are doing the Sui Dhaaga challenge or they are talking about 'Sab Badiya Hai' or they are putting memes of Anushka. The information is there about the film. People are talking about the film a lot so I think the film is trending all over. We are hoping people will enjoy it when they go watch it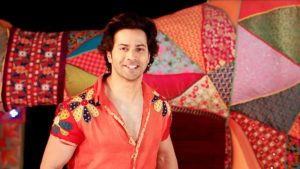 What is next for you?
Keep surprising people yaar, and providing entertainment. I definitely need to up my career in a way. I think people now somewhere are expecting entertainment from me. No matter what anyone might say, but when they come in to see a film which is starring me I know people are expecting a certain level of excitement, a certain level of entertainment and I can't not give them that. I mean I can do different types of films, but like Sui Dhaaga is a the prime example where the film talks about so many things yet it is super entertaining
Do you have a message to your fans?
I think the fact that I get to try different genres, be different characters and they are always supportive about that is pretty kick ass. They've given me the freedom to be something. They've not boxed me into being just one thing. I am going to go back to do other stuff that I do very well also but I am yet going to be experimenting as well.
Sui Dhaaga: Made in India is in theaters on Friday, September 28th. Be sure to check it out!