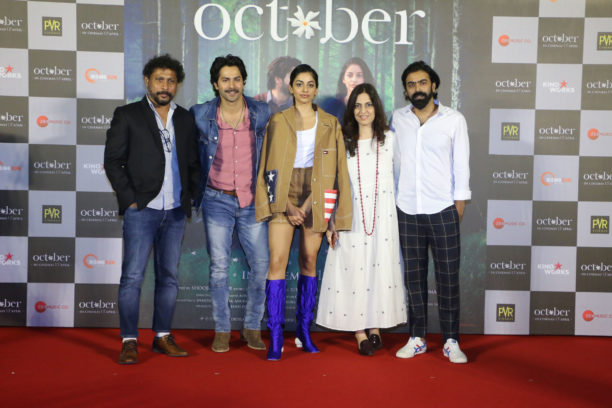 The much awaited trailer of Shoojit Sircar's October is out and the beautiful story of love has created immense anticipation and so many feels. The film has Varun Dhawan in a never seen before avatar and will mark the Bollywood debut of actress Banita Sandhu.
At the grand trailer launch yesterday Director Shoojit Sircar, Varun Dhawan, Banita Sandhu, writer Juhi Chaturvedi and producer Ronnie Lahiri were there. Varun Dhawan also did a special live event through his social media while traveling to the theatre.
Varun and Banita also visited an all girl's college (Sophia College) post the event to show his lovely female fans the trailer and talk to them about their take on love! Of course, they went crazy for him!
At the trailer event Varun said, "When he [Shoojit Sircar] narrated the film to me and told me why he wants to make the film, I was so moved. I had to sign it. Honestly, I need this film in my career."
Adding, "When I sign a film, I look at the script more than anything, and how much the maker is putting in the film. In October, Shoojit da, writer Juhi Chaturvedi and every one of our crew members put their heart and soul in it. I had to be a part of this film. Shoojit, Juhi, put in everything in the film – their personal experiences, passion for cinema and dedication for everything."
Shoojit said, "You will find the real Varun in October."
Banita said it was the chance to work with director that made her want to say yes. "I said yes without even listening to the storyline. I didn't even care if the role was for 10 minutes. I just did it because I wanted to work with Shoojit sir again."
Produced by Ronnie Lahiri and Sheel Kumar, October stars Varun Dhawan and Banita Sandhu. A Rising Sun Films Production, directed by Shoojit Sircar the film is set to release on 13th April 2018.
Check out these pictures
Also ICYMI here is the moving trailer again