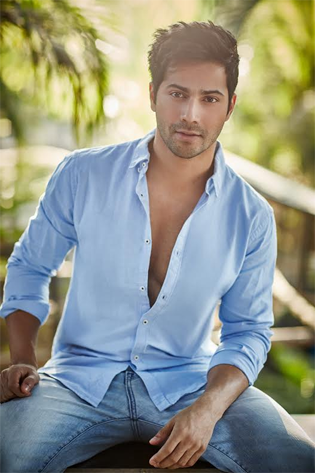 After the stupendous success of the hindi version of The Jungle Book comes more big news. After PC, Irrfan, Nana, Om Puri and Shefali Shah voicing for The Jungle Book, it's time for yet another casting coup for the much awaited superhero avenger movie Captain America: Civil War!
Disney India has done it again and the studio and Varun Dhawan have collaborated on the massive summer blockbuster, Marvel's Captain America: Civil War's Hindi language version. For this year's most-anticipated and eagerly awaited superhero film, the Studio has got on board versatile actor and youth icon Varun Dhawan to lend his voice for Steve Rogers AKA Cap America in the Hindi version of the colossal superhero action flick.
In the past Varun was main lead in Disney India's homegrown dance franchise ABCD 2 – one of the most successful films of 2015. The film was a sequel of 2013's hit film ABCD: Any Body Can Dance.
When quizzed the star on the association with Captain America: Civil War, Varun said, "When Disney India got in touch with me to voice Captain America it tickled a creative box in my head. I have immense respect for voice-over artists as it's a very difficult job to do. Captain America is a matured and a balanced leader. This is something that I am not. So that made it all the more challenging for me. 'Captain America: Civil War' is bigger better and the action is huge. It's a film for kids and adults and the actual moral of the film is something I loved and believed in so I was very happy to voice it. I was blown away by the trailer and that got me very interested to take it up as a challenge. I have seen all the Avenger movies till now and this one definitely takes the Avengers series to a different level. I'm very happy to be part of the Marvel Universe. The film has an amazing connect with kids so that was one of the main reasons for me to do it."
"Captain America: Civil War is the year's most-anticipated and eagerly awaited superhero film. Hindi audience for Marvel's movies has been growing rapidly over the years. During ABCD 2, we have seen what a huge draw Varun has with younger audience and kids, this made him our obvious and first choice for voicing Cap Am in the latest Marvel tentpole. Varun has the x-factor and versatility as an actor and we are delighted that he is equally excited about the movie ! We believe his charisma and his huge fan following is just what we need to take Captain America: Civil War to a wider Hindi audience. This movie brings the Captain America team up against Tony Stark and his team, there is a lot of fun and action to watch out for ! " said Amrita Pandey, Vice President – Studios, Disney India.
Marvel's Captain America: Civil War finds Steve Rogers leading the newly formed team of Avengers in their continued efforts to safeguard humanity. But after another incident involving the Avengers results in collateral damage, political pressure mounts to install a system of accountability, headed by a governing body to oversee and direct the team. The new status quo fractures the Avengers, resulting in two camps—one led by Steve Rogers and his desire for the Avengers to remain free to defend humanity without government interference, and the other following Tony Stark's surprising decision to support government oversight and accountability.
Captain America: Civil War releases in India on May 6 in 3D, IMAX and 2D. It will be released in four languages – English, Hindi, Tamil and Telugu.