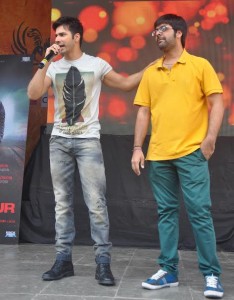 Amongst all the brouhaha and anticipation along side Badlapur, the lead actor of the film Varun Dhawan decided to visit Mithibai College in Mumbai.
The teaser of the film was quite an excitement amongst the crowd and their fondness for the film grew three folds when their favourie actor (Varun) decided to interact with them personally!
Varun has been visiting Mithibai for his last two films and has proved to be lucky for him, therefore he decided to visit the college again. Varun was also accompanied by one of the music directors of the film, Jigar Saraiya.
This duo brought about an amazing event, where the crowd couldn't be controlled by the organizers. They decided to make people sing and dance from the audience in the film, and the crowd went mad to get a chance to be on stage.
Well, all we can say is Varun Dhawan does his best again!