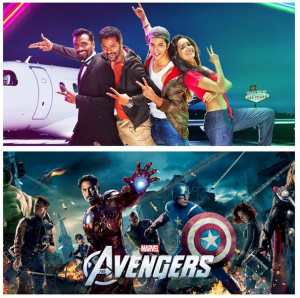 Putting an end to his millions of fans' curiosity, Varun confirmed on Twitter that the 3D theatrical trailer of his upcoming dance film ABCD2 will be attached to Marvel's much awaited superhero action fest "Avengers: Age of Ultron" on his birthday, 24th April!
Starring Robert Downey Jr, Scarlett Johansson, Chris Evans, Chris Hemsworth, Mark Ruffalo, and Samuel Jackson, the biggest summer blockbuster is scheduled to hit screens on 24 April. And Varun Dhawan is going to get the sweetest birthday gift ever on 24th April with his first 3D film trailer also hitting screens on the same day!
"#abcd2 trailer attached to #avengers2 on the 24th.my first 3d trailer guys," he posted on the micro-blogging site.
"Hey guys the trailer of #abcd2 is going to be attached to #avengers and u can see it in every theatre on the 24th of April," he added.
Looks like this is the perfect gift for Varun Dhawan to have his newest movie trailer attached to THE biggest movie of 2015! Catch Avengers: Age Of Ultron in theatres on 24th April and ABCD2 3D trailer as well!