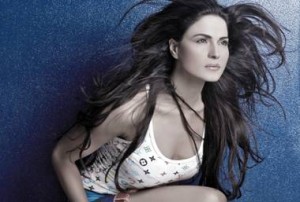 We can now report that after being unreachable for 36 hours, Veena Malik is safe and sound in Mumbai. Apparently the actress checked into a hotel, turned off her phone and was resting and recovering not only from the pressure she has been under lately, but also from being ill.
Nisha Sahdev, Veena's UK publicist said in a statement, "Veena took a few days away from the public eye and turned her phone off without informing anyone. I have spoke with Veena early hours of the morning she is doing fine, she has a fever and is resting at the moment, she is safe and apologises for all for the fiasco."
Talking with IANS, Prateik Mehta, Veena's manager in India explained further, "Veena never left the country as she was busy shooting for (her debut movie) Zindagi 50-50. It was just that on 16th of this month she got to know that she is getting some time off from the shoot, so she planned to spend some quality time with herself. She changed her hotel to Oakwood and also also kept her mobile phone off during the entire period so I was not able to contact her. She was going through such a tough time after all those controversies that she thought of rejuvenating herself."
"This was not at all a publicity stunt as many are saying. People can't even imagine her situation. She is pressurised from everywhere — from her family, the Pakistani government and the moral police. This is why she thought of keeping herself under wraps for some time," he added.

All's well that ends well