By Swarup Chakravarthy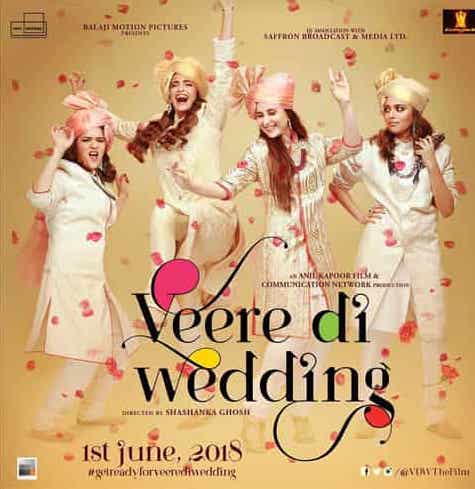 Bollywood has had its fair share of great fun and romantic buddy comedies over the years from movies like Amar Akbar Anthony to Grand Masti. These have been male centred movies where the ladies play a part but are never given a significant block of screen time. To begin rectifying this is the buddy movie of 2018 Veere di Wedding, an all-female lead cast with Kareena Kapoor, Sonam Kapoor Ahuja, Swara Bhaskar and Shikha Talsania. Directed by Shashanka Ghosh this release anticipated on 1st of June looks like a Hollywood female ensemble movie with an Indian twist and Punjabi spice. The music directors asked to achieve this are Shashwat Sachdev, Vishal Mishra, QARAN and White Noise. All of them are up and coming music directors who have a few albums under the belt so no doubt they will provide Veere di Wedding with a lively, modern and very danceable set of tracks.
The album begins with Pappi Le Loon. Shashwat Sachdev has designed the music and sings some vocals as a background to Sunidhi Chauhan who takes lead. The club rhythm provided as a base is hard hitting to the point of sometimes overtaking the chorus altogether. Sunidhi is asked early in the piece to keep up with the excessively high tempo of the song, firing through lyrics and this is the only highlight of this song, as it needs a few listens to catch all that she has expertly sung. The rest of this song like the rest of this album, is repetitive, full of Hinglish and classical Punjabi melodies. Nevertheless, for those who love Daddy Yankee this will likely appeal.
Shashwat takes a different direction with the next song Bhangra Ta Sajda. Sung by Neha Kakkar, Romy and Shashwat, this is a more traditional bhangra and the released video clip shows this as being at a wedding so its not a great surprise. There is a sense of the 'call and response' style of lyrics with the boys saying that we can't bhangra if no one gives a damn and the ladies telling us that if they are around the bhangra will go on. But outside of this fun there really isn't anything in this song to keep an audience or listener interested unless your playlist(s) are already full of upbeat punjabi wedding songs.
White Noise now takes over the turntable and gives us Laaj Sharam to listen to. Divya Kumar, Jasleen Royal and Enbee are invited to take on this song, which sounds like its been inspired by Fergie. Once again its about breaking free of shackles placed upon the female lead(s) but with more classic Punjabi rhythms and heavily repeating lyrics without much in the way of verses, this also fails to get the blood pumping.
Next on the album is the title track Veere. Vishal Mishra has taken the responsibility of both the music and lead vocals with a host of singers in tow namely Aditi Singh Sharma, Dhvani Bhanushali, Nikita Ahuja, Payal Dev, Lulia Vantur and Sharvi Yadav. The inspiration for this song comes from songs such as Bhuddhu sa Mann and aims for feel good, playful and dance track without trying to explode on the club scene. Overall this is quite a good song as it plays second fiddle to a lot of the other tracks and seems to do everything in a middle of the road fashion. Since it is possibly the only song that concentrates on one character i.e. Veere, it does seem more personal but not enough to evoke any real emotions about her.
Shashwat Sachdev now takes to the mic again to lead and direct Bass Gira De Raja. This is heavy synth pop with strong blocks of bass to hit the hearer's ears. Interesting synth sounds, and very limited lyrics give little distractions away from this pounding but at the end of the day this song really is all about that bass and no treble. This is likely to be the ending song as the lyrics are about everyone just letting go to the beat of the DJ who is dropping that bass.
Aa Jao Na, while being the next track on the album, couldn't be further stylistically from the previous song. Arijit Singh is asked by Shashwat to find his inner Drake and delivers a soft and smooth track. Piano for the bridge between chorus and verse and some neat backing synth sounds give this track a melody unheard in other tracks on this album and is certainly a change of speed and feel for this album. Perhaps this is a flashback on some better times or is trying to signify a journey forward as Arijit and Shashwat together remind us of the easy feeling sounds of some great modern western artists.
Dagamag Diga is Vishal Mishra's seeming attempt at an item number. Along with Payal Dev he again takes the lead on vocals in a song that doesn't seem to ever come together. Neither the Hinglish lyrics, nor the hard beat or the weak voices trying to escape from under it, seem capable of finding a harmony within this song. There may be good reasons for this, but it is not obvious without a published clip or watching the film.
Finally, the album is rounded out by a Baadshah special titled Tareefan. QARAN takes the music director credit for this but it sounds like some of Baadshah's more recent works. The published clip for this does create interest with Sonam and Kareena both lip synching and gyrating their hips to Baadshah's voice. Baadshah himself makes an appearance for the clip during the rap breaks which are often. Publicly QARAN has said this song was "composed on a flight from Mumbai to Delhi on my iPad", which may lead you to wonder if the required time was put into developing it.
When a film takes a title Veere di Wedding and claims to be a romantic comedy but not a chick flick, an audience can't expect more from its songs than to be high-energy, loud and Punjabi. Especially not post-00's. To that limit, this album certainly delivers. If your playlists are already full of club tracks, then you are likely to be adding a few more from this album already. From the movie's point of view, some of the songs don't seem to have a defined purpose and even those that do often fail to deliver anything except classic bhangra mixed with hard club sounds. Overall, this album lacks any substance unless you are a Punjabi, named Veere or at an Indian wedding.