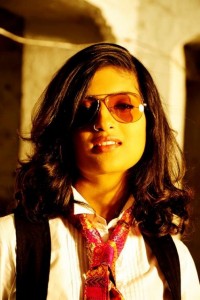 Being inspired by counterparts from the West is not a new thing for Bollywood actors, especially the ones who are just starting off their career. Moreover, when due credit is being given, it is more of a homage coming into play. This is what's happening to Vega Tamotia as well who has picked style tips from none less than Cameron Diaz for her leading lady act in Amit Sahni Ki List.
Informs our source, "Those who are familiar with Cameron Diaz's work would be aware of the fact that she creates her own style. She doesn't necessarily follows trends and at times even comes across as a non-conformist. So she would find her wearing a designer dress with a cheap bracelet and still that would look amazing on her. Now that was the essence of styling that was required for Vega's character in the film as well. The stylist was given a few reference points and she did a wonderful job in presenting Vega in an altogether manner."
For someone who had a an out and out 'desi' period look in Manoj Bajpayee starrer Chittagong, it may just have seemed like a complete turnaround, if not for the actress turning out to be quite a fashion conscious girl in real life who was well versed with the trends of past and the present.
"I had seen her performance in Chittagong and on meeting her, I found her to be so different in real life when compared to the character she had played in there. I instantly knew that she was a very fine actor because to be playing someone completely different from yourself is a very difficult task. She had achieved that once and I was sure that she would do that again in Amit Sahni Ki List as well," says Tina Nagpaul, who has produced the film along with Kavita Kulkarni and Sujata Vemuri.
Next immediate task for the styling team associated with the film was to bring a funky style in Vega's personality which was set to be unusual and unique. Meanwhile, reference points of Cameron Diaz helped too.
"Well, Vega has this certain natural charm of a girl next door which went with the character," she adds, "Her character is that of a very quirky fun loving girl who is not very typical heroine kind of a character. Everyone just loved what she had to bring on the table for the film."
Well, just like Cameron Diaz's fans would have exclaimed – 'There is something about Mary, oops, Vega'?