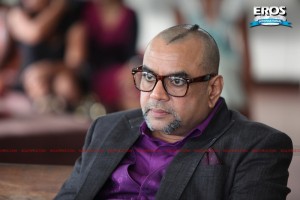 Guaranteed to send chills down your spine, Paresh Rawal is set to shock audiences with his all-new look in the forthcoming thriller Table No.21 produced by NextGen Films and presented by Eros International and directed by Aditya Datt. After several look tests, the high-concept thriller, a twisted tale of a inexplicable mystery, sees the veteran actor sport a shaved head, with heavy brows and an intense grimace to play a key role in the film, details of which are tightly being kept under wraps.
Reveals a source "Paresh was keen on experimenting with his look for the film and wanted to do something novel and edgy since he felt it would suit his character….. Though much cannot be revealed about his role in the film – Paresh Rawal plays a pivotal character for which several look tests were done prior to the shoot of the film.. "
Confirms producer Viki Rajani, "For the kind of film Table no.21 is, we wanted, Pareshji to really spring a surprise on the audience with a never-seen-before look. In fact Pareshji being the professional that he is was more than willing to experiment and I think that has worked splendidly in support of his character in the film". Shot at the picturesque Fiji Islands, Table No.21 produced by Nextgen films & presented by Eros International also stars Rajeev Khandelwal and Tena Desae in lead roles.