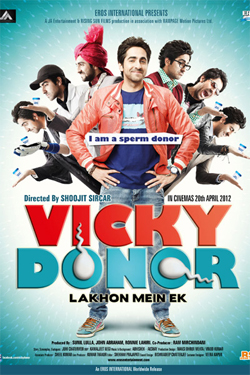 Our Bollywood reporter Sunny Malik caught up with the leading actor of Vicky Donor and talked about his previous work, his director, the film and producer John Abraham.
Vicky Donor is about Vicky Arora, played by Ayushmann Khurrana, a young, good-looking, Punjabi boy from Lajpat Nagar. The film also stars Yami Gautam, a pretty Bengali girl, who works in a Bank and Annu Kapoor who plays Dr. Chaddha.
Directed by Shoojit Sircar, Vicky Donor is a light-hearted take on the subject of sperm donation.
You are known for hosting Just Dance. What else have you done in the past?
I worked with MTV India and I am permanent with them as a VJ. Apart from that, I hosted the IPL (Indian Premier League) Season 3. I have hosted India's Got Talent for two seasons, mostly the second and I was a contestant in MTV Roadies, a reality show which is really popular here. I started off with MTV Roadies but that was in 2004 and after that I completed my graduation. I studied Journalism for two years as my Masters. I also did Radio for two years and was doing Theatre simultaneously. When I was prepared for everything, I came to Mumbai and shifted my base to Mumbai in 2008 and joined MTV as a VJ.
You were a TV journalist and have studied journalism as well. How does it feel now for you to be interviewed by the media and attend press events as the star of a film?
It feels really good. I was used to asking questions and used to be on the other side. Introducing people on stage, being an anchor and interviewing people is easier than getting introduced and answering questions because you need to be more intelligent and you have to know a lot of stuff. I am still getting used to it but it feels really good.
Tell us something about your director, Shoojit Sircar.
Shoojit Sarcar is very credible as a director. He directed Amitabh Bachchan in his last film. However, unfortunately the film did not release. So the director has directed Amitabh Bachchan in his last film and I think he is very credible.
So was it the director, the script or production house that made you choose the film then?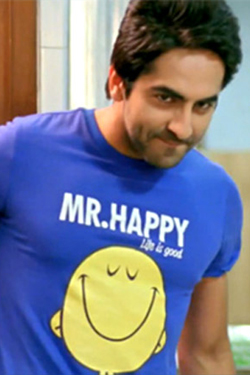 It was not just the director. Since I am not a star kid, I don't have a godfather in the industry. I was looking for a film where the subject was the hero. Anyone who watches Vicky Donor will watch it for the subject and the quirkiness of sperm donation. They will not watch it because of me because I am not a star. It's always safe for a newcomer in the industry to debut with a film where the subject is the main hero.
Don't you think that it's a risky film for a debut? Most newcomers are being and have been launched in rom-coms or love stories. Vicky Donor is maybe the kind of film someone would do after a few years of being an actor.
You know rom-coms only become successful if they are shot on a bigger canvas, if it's a big budget film or something similar. For example, Arjun Kapoor, Boney Kapoor's son is being launched by Yash Raj Films in Ishaqzaade since he is a star kid. I don't have that kind of background in the industry, so I have to start with a small budget film and we don't expect a small budget rom-com to do well. Like I said, the subject has to be the king and you have to see the film because we have dealt with the subject in a very mature manner. It is a very sensitive topic but when you will see the film, you will realise that it is a potential National Award winner.
So what is the film all about?
It's the story of a Punjabi guy who lives in a middle-class society in Delhi. He is good for nothing but there is doctor called Dr. Chaddha and he discovers this great talent in Vicky that he can sing, dance and that his great-grandfather had nineteen children, which clearly makes him the alpha male, the one who can produce a lot of children or is someone with a greater sperm count. He eventually becomes a professional sperm donor.
Can the film be watched by a family audience?
It has got a U/A certificate. The censors have passed the film with a U/A certificate, so anybody over 12 can watch the film. It's a very clean film and we discuss about sperm in Biology in 8th and 7th standards anyway these days. India has become really progressive and I think that the youth will like it and youngsters will understand it and will be able to talk about it with their parents.
Have you ever donated sperm?
Of course I have. I was part of a reality show in 2004 and there was this task called sperm donation and there were four guys and three samples were selected. So, I am an authentic sperm donor. I was 19 at that time.
How do you think the UK audience will react to the film? Are you nervous?
I am not nervous. I think big stars can get nervous but I am a newcomer and have nothing to lose. I am very confident about the product and we have done a lot of research on the topic and the film is very authentic. The film is believable and we are not dancing around trees, even if I am singing with a guitar, it looks really real. I am excited but not nervous.
How much involvement did John Abraham have during the making of the film?
John did not give any creative input as he is the producer. That is completetly the director's and scriptwriter's domain. More than a producer, I think John is like a buddy. He is like an elder brother to me and he would guide me and give me advice on how to behave in the industry e.g think before you speak because he has been there and done that.
Have you signed any more films or are you waiting for the release of Vicky Donor?
I have signed Shoojit Sircar's next film which is called "Hamara Bajaj". It's the story of a small town struggling actor.
JA Entertainment in association with Eros International will release Vicky Donor in the UK on 20th April 2012.
Vicky Donor is produced by Sunil Lulla, John Abraham, Ronnie Lahri and co-produced by Ram Mirchindani.