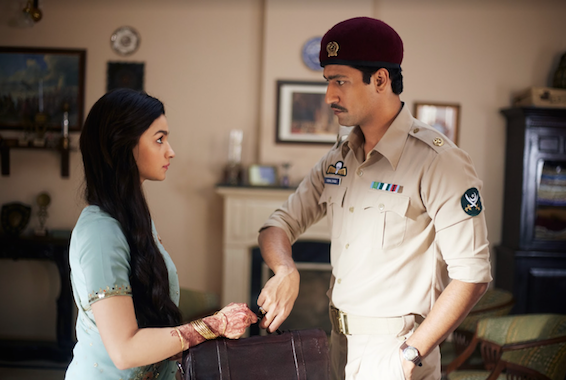 Raazi, starring Alia Bhatt and directed by Meghna Gulzar is an adaptation of Harinder Sikka's novel Calling Sehmat. Raazi is based on a true story of a young girl, who was sent to Pakistan in 1971, to source out any information she could, as war was becoming imminent between India and Pakistan. It is the journey of an ordinary Indian girl, in extraordinary circumstances.
Actor Vicky Kaushal also stars in the film and portrays the role of Iqbal, a major in the Pakistani army. Kaushal and director Gulzar had a unique way of finding his charter, "Meghna told me not to read the book because of its expansive narrative. For the film, she chose a particular journey from it and wanted me to treat the script as the only blueprint for my character, Iqbal."
Expanding on playing this character he says, "It was a learning experience because there is more to Iqbal than just being a Major in the Pakistani army. It was important to understand his emotional side. Also, studying the hierarchy of the army, the significance of each medal, the maroon beret, it was all a first for me."
On working with Alia Bhatt, who plays the heroine Sehmat, Kaushal says, "I don't need to tell anyone how good an actress Alia is; her body of work speaks for itself. Sehmat is definitely the toughest character she has played till date and she's pulled it off in an incredible way with immense hard work."
Adding, "What I admire most about her is that even though she's a leading star today, she doesn't wrap herself up in a bubble. She is comfortable and cool, easy to bond with, and always makes sure to lift the performances of her co-stars."
He has nothing but praise for director and actress, "Raazi was an experience like none other because I got to work with two of the most incredible women I know — Meghna and Alia."
Raazi releases in cinemas on 11th May.