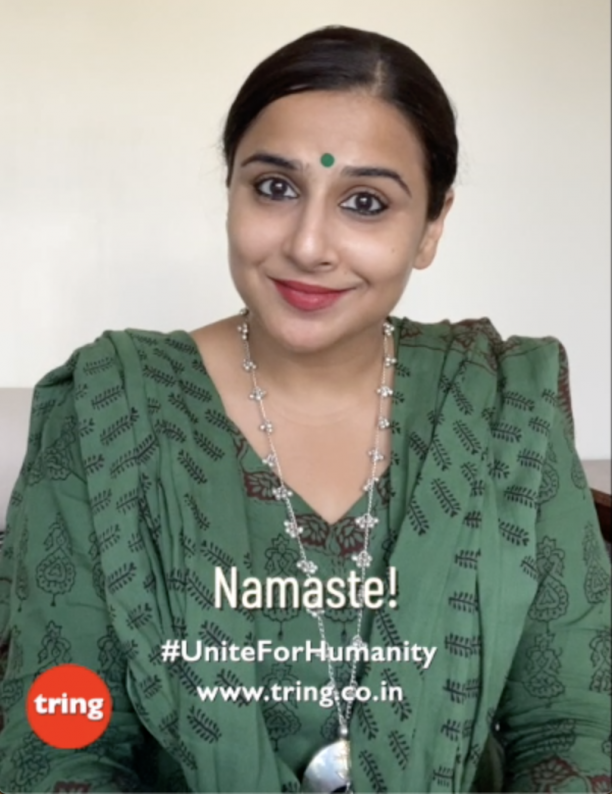 The Covid-19 lockdown phase is proving to be the most challenging time for our country. The greatest battle we face in this #WarAgainstCovid19 is to adequately arm our frontline medical staff. Effectively they are our soldiers in this fight and to protect them with Personal Protective Equipment (PPE) is the need of the hour.
Understanding the critical shortage of PPE kits for the medical staff across India, Bollywood actress Vidya Balan pledged to individually donate 1000 PPE kits to the frontline healthcare staff. The actress also collaborated with India's largest celebrity shout-out platform Tring (www.tring.co.in) to raise donations to provide additional 1000 PPE kits, in association with Manish Mundra of Drishyam Films and photographer/producer Atul Kasbekar. For donations made through Tring, Vidya Balan is recognising the support of every donor by sending the donor a personal thank you video message, and a chance for 2-minute video call with her.
Vidya Balan has appealed to the citizens of India via a video message published on her social media pages
Tring is committed to sending as many PPE kits as possible to hospitals across India, directly from the suppliers, to ensure that our frontline medical fraternity and healthcare workers are fully armed to combat this #WarAgainstCovid19. Tring is also making public the proof of delivery of each batch of kits to the intended hospitals, thereby making the process very transparent and accountable, which is a big boost in the confidence of each donor.
Akshay Saini, Co-Founder of Tring says, "We have all been donating in our personal capacities and showing solidarity in this time of crisis. We are very grateful to Vidya who has been very generous and has donated 1000 PPE kits in her individual capacity, in addition to the several other donations she is doing. Further, for every donation made on Tring, Vidya will also recognize the support by sending the donor a personal thank you video message, and there is also a chance for a 2-minute video call with her. This video can be downloaded and shall remain with the donor in their permanent memory. While the donations are from a feeling of humanity and patriotism, the recognition received is just a bonus and encouragement. We were elated when the 1000 kits pledge was fulfilled under 6 hours of going live. People have donated from all across the globe with the first international donation coming from Ireland. It is a very powerful movement and will require all that we can give. We are in this war together."
Each PPE kit worth Rs.650 (all-inclusive of delivery costs and applicable taxes) consists of one coverall laminated and waterproof, nitrile gloves, goggles, face shields, 3-ply surgical mask, and shoe covers.
Our senior doctors, residents, nurses, ward boys who are providing care and treatment need to be protected with PPE kits. If one person in a medical unit contracts the coronavirus, the entire cell of 8-12 healthcare workers is quarantined for 2-3 weeks crippling the medical outfit.
You can join this #WarAgainstCovic19 by donating 1 or more PPE kits, and make every bit count to help our heroes – https://www.tring.co.in/Vidya-Balan