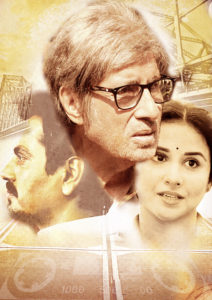 On 10th June, the Power of Three will be unleashed as the formidable trio of exemplary actors, Amitabh Bachchan, Nawazuddin Siddiqui, and  Vidya Balan in a pivotal guest appearance will be seen together in Ribhu Dasgupta's emotional thriller TE3N.
Amitabh Bachchan and the team had earlier launched a special initiative to involve the fans by asking them to take part in all levels of promotions like the posters, music, information, games etc!! There are multiple options for the audience to take part in the 'Te3n it around' campaign, like creating the posters for TE3N, choosing the first song they want to hear/see, choosing what kind of a game they want to play!! With the campaign garnering a phenomenal response already with entries from all over India, we learn that Vidya Balan too has submitted a special poster designed on her own, to the team!!
She came with an unusual design as is seen in the artwork and has sportingly also submitted the same as an entry for the contest! Well, looking at the poster, which aesthetically highlights all the components of the trailer, we must say it's quite creative and striking, perhaps unlocking a hidden talent of the powerhouse actress?
Endemol Shine India , Reliance Entertainment, Cinemaa, Kross Pictures and Blue Waters Motion Pictures, have come together for "TE3N", which releases worldwide, June 10, 2016.