Vidya Balan is without a doubt one of the finest actresses in Hindi cinema. From her debut in Parineeta where she blew us all away, to her amazing turn in Kahaani, to the fun and oh so good Bobby Jasoos from last year, Balan always completely becomes her character and makes us completely forget she is acting. From what we have seen so far in the trailers, she once again is going to take us on an incredible journey with her character in the romantic drama Hamari Adhuri Kahani.  Written by Mr. Mahesh Bhatt and directed by Mohit Suri, the film also stars Emraan Hashmi and Rajkumar Rao.
First you must see the trailer!

youtu.be/qBafd1wJJeE
In an amazing, open interview with Stacey, Vidya revealed more about how she became a part of HAK, the challenges she faced playing her character and so much more. Enjoy!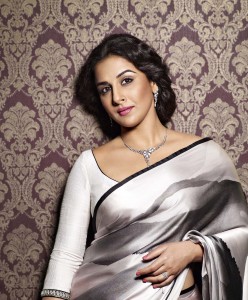 Mr. Bhatt has said that he wrote the script with you in mind and could see no one else but you playing this role, how does that feel?
In a similar situation, I would have said that it's humbling, but it is even more because we are talking about Mahesh Bhatt Saab, someone who I have been dying to work with since I saw Arth when I was in college. Of course, I saw it much later than when it released. It was showing on TV and I watched it and I fell in love.  I so wanted to work with him. So considering that Arth had a creative influence on me not just as an actor, but it also has guided my choices in a lot of ways; I think it was overwhelming when Bhatt Saab said I've written a story, if you like it, I will write a script and Mohit will direct it. I couldn't ask for anything more really!
When you heard the full script and about the part he wanted you to play what were your first thoughts?
It really is primarily a love story. It is about this woman who is very conventional, very traditional in her thinking and what happens when a woman like that, who is middle class, a working woman, a mother of a child, when she suddenly experiences something that she never imagined she would in this lifetime. I loved it because he used mythology to really draw an analogy. He gave me the analogy of Radha, and also spoke to me about Meera and Rukmini. And about how actually, in this film, there are three different kinds of love that you see – one is the love that I feel for Aarav (which is Emraan's character), one is the love that Aarav feels for Vasudha (my character), and one is that what Rajkumar Rao (who is my husband in the film) feels for his wife. For him, his understanding of love is possession. So that's where the complications come in.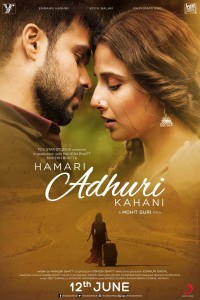 I have to say when I saw the trailer, I actually teared up, which speaks to, I think, what this movie is going to make the audience feel. Just from that trailer there was so much emotion just in those glimpses of the small moments.
That's so nice to know. You know that's pretty much the reaction that we got from most people – them saying it made me tear up. I must admit to you, Stacey, the first time when I saw the trailer, and you know I have been part of this from its inception, I have been part of the film, and yet when I saw the trailer I teared up.
This seems to be a very emotional role. How do you prepare to play a character like this and to get into those emotional scenes?
You know, it is not just that this character is extremely emotional, but it is that she is more held back. She is like if you imagine a girl who doesn't want the world to know what she is really going through. She's not stoic, not at all. She's very vulnerable. Her vulnerability is very palpable. But having said that she is held back. I actually used a reference of a real person. Someone who is so shy to react to anything that is said to her – who is so unsure of what would be the right way to react. So when Vasudha faces a lot of dilemma of falling in love, I think it really plays out beautifully.
To have to go through that character arc of being, as you said, held back and then coming in to falling in love (you see that in the trailer – the change you make) that must have been really interesting to play.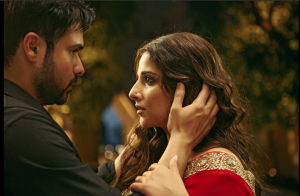 Yeah, it was. In some ways I would say it was the most challenging part for me because I belong to a generation which believes that if a relationship is not making you happy then you would rather walk out of it. We are a generation that is not patient enough to make things work – sometimes for the better, sometimes for the worse. You know, in the beginning talking with Mahesh Saab, I said, 'Are there really woman like her today? Maybe they just belong to one section or that are maybe uneducated'.  And he said, 'No, you would be surprised. You will see that there are lots of women who still believe that marriage is absolutely sacrosanct – whatever the situation. Because they have all been the product of this belief somewhere, they have all been conditioned to believe, that marriage is for life. So whatever you have to endure to keep it going – you do'. I said, 'No, that can't be true'.
And around that time I met a friend of mine who just filed for divorce. I met her after six years and suddenly out of the blue she made a confession to us that that she's been going through a terrible marriage. A marriage where there was physical and mental abuse. It was unbelievable for me. I asked her, 'What took you six years? Why couldn't you have walked out earlier?' And she said, 'Because I could never imagine going through a divorce'. And then I said 'Oh My God, this is the universe trying to tell me that there are women like that'. She is a career woman, she's financially independent, she's sexy, she's all that, and is the last person you would imagine who would put up with something like this. So that was an eye-opener for me.  I said my God I have a very myopic view of things obviously because I thought this was an unreal reality. Because when we talk of women being educated and evolved and liberated, you don't think of a situation like this. So then I realized that to varying degrees, this is true because even amongst the most free and independent minded we are somewhere still tied down by tradition and by that ancient belief.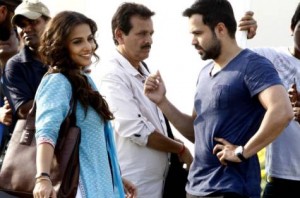 What do you think director Mohit Suri brought out in you as an actress?
He made me realise that strong doesn't mean aggressive. Strong doesn't mean stoic.  Strong is the ability to let go and you can do that in the most gentle way.
I think I am just getting this now after completing the film, but I don't think I realized that when I was going through the film. I now realize that is what he was trying get out of me. Especially as today's women, oftentimes we mistake aggression for strength.
He is also one of the best directors I have worked with. The way he got the work out of us actors. He just knows how to handle actors beautifully.
I had many more questions, but sadly we had to cut it short because she was off to the next event. Still, it was a wonderful chat. I have to say Vidya Balan is not only a first rate actress, she is also one of the nicest ladies I ever have had the privilege to interview. I love having a conversation with her and look forward to the next time we can talk again. I can't wait.
Hamari Adhuri Kahani opens this Friday June 12th worldwide.