The incredibly talented Vidya Balan has returned to the suspense genre with her new film Kahaani 2. Suprisingly, this film is not a continuation of the hit film Kahaani from 2012, but is a mysterious and unique story masterfully told by director Sujoy Ghosh. In this story, Vidya Balan plays two characters: Vidya Sinha and Durga Rani Singh. The film explores a dark story of kidnapping and murder. From beginning to end, the audience will be kept guessing as to what is real, what is the true identify of the main character, and what is really going on in this terrifying tale.
To get an idea of the intensity of the film and to get a preview of the depth of Vidya's character(s) check out the trailer!
I know I say this every time, but it absolutely must be said again, Vidya Balan is one of the nicest and most interesting people to interview. Because she always takes the time to really think about her answers, interviews with her become a real conversation and that makes it so much more. We recently had another incredible time talking about Kahaani 2 and though, as she said she was very careful about what she could say about the story, she still talked about her excitement about this film and her character, playing those intense scenes and even more!
Kahaani 2 is not a sequel, it is a second story, so when you first were approached for this what were your thoughts?
I asked Sujoy Ghosh, the director, are you sure you want to make Kahaani 2, because it will come with a lot of expectations – people loved Kahaani. He said, you read the script and then we will take the call. I think it is the perfect Kahaani 2. I read the script and I couldn't have agreed more. In essence it is the perfect film, worthy of being called Kahaani 2, even though it is not a sequel. Once I read the script, I felt compelled to tell this story. I have to feel that way to take up a film. I felt that way after I read the script of Kahaani 2.
There are 2 faces of me in this film. There is Vidya Sinha and there is Durga Rani Singh. I love these complications. Who knows whether they are in the mind or they are for real… you will have to see when the film releases (laughs). I love exploring those parts, which is why it was exciting for me to do.
It must be hard to play a character that has to be mysterious because a lot is said with looks and you may know what is coming but we don't what is going to happen… you have to have that there and play it both ways.
Yes, exactly! This is very exciting for me as an actor. The thriller/suspense genre is my favorite. I would say this is an emotional suspense thriller. There is a little bit of everything! You know, when you seem one way, and probably turn out another way I think, for me, as an actor it poses another challenge. I'd say in Kahaani, all along you bought into the story and then you realized no the story was something else! Here this not the case…but I am being cautious with everything word I speak (you can hear the smile) so I don't give out too much! I do think Durga Rani Singh looks like this really unobtrusive, wanting to be invisible woman who then is accused of kidnap and murder. But who knows where the truth lies? When you are constantly walking this tightrope, I think that is very, very challenging and exciting for me as an actor.
And you have to have that look in your eyes at times, I noticed that in the trailer and I wondered really what is going on…
Yes, yes. Which is why a lot of people have been asking me after watching the trailer and saying… Are you misleading us? What really is the story? Who is Vidya Sinha? Who is Durga Rani Singh? What happens? Does this mean this? You know people have begun to do their own maths, which I think is a very good sign! Let's hope that they throng the theaters and have it all figured out when they come out!
How was it working with Sujoy Ghosh again and in a totally different kahaani?
It has been six years since we shot for Kahaani. Kahaani was actually shot in 2010. Obviously a lot changes with time. I was wondering how it would be. The first day of shoot I just felt like we were back to square one. We were both as mad and as passionate about what we do. We both, thankfully, believed in the same story. And we were willing to go to any lengths to tell the story in the best possible way.
It must be so cool to work with a director like that…
Yes! I think we really understand each other as actor and director. That really helps. You know, you may have a great rapport with a director, but to have this kind of understanding is rare. Which is why I think our equation is very fertile for lack of a better word. We are constantly feeding off each other on set. That also means we have a lot of clashes (laughs) but it is all okay.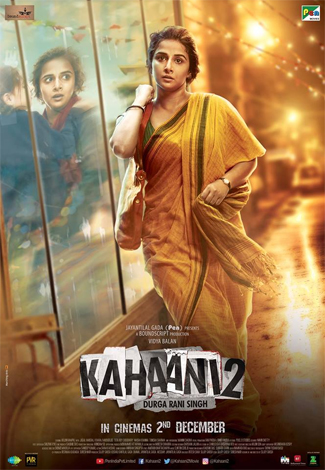 There are some very intense, fierce scenes, so how do you get yourself into a place to play that? I mean, you read it on the page, she gets into a fight but then you have to actually get into a fight… so how do you get there?
I think, you know I like to understand the mind space of the character, the world of the character before the film. So when I reach that physical space of the character, on location in a space that is probably inhabited by the character it helps me in my suspension of disbelief that much more easily. Which is why conversations with the director, conversations with the writer, which in this case they are the same person, is very helpful. There is constant back and forth. And especially with Sujoy, we don't sit and prepare. There is no meeting as such that we do. We are very casual; we are talking about rubbish and then suddenly we are talking about the film. That is how we work best. There is a lot of conversation that happens about the character and the story, which is why by the time I reach the set I think it is very easy to transport myself into that space. Yet there are days when it is difficult, but then there are good and bad days and that is really okay (smiles). I think thrillers require a certain intensity. I love that intensity.
I love that pace. I love that crispness. Kahaani 2 is a 2-hour film. I love 2-hour films because my patience runs out after that. So I am very happy when my own films are about 2 hours because you know I run out of patience in other films that are more than 2 hours. I can't expect people to see my films that are more than 2 hours. (Smiles)
Do you ever trouble letting go of a character and especially in this film with some of those really intense scenes, because you do invest so much or yourself into it?
I think I do. I get tired sometimes or rather the intensity drains me sometimes because you don't know really what to do about it. You know, I am not a trained actor so for me it is very instinctive, and therefore I involve myself that much more. I don't know how to disconnect from a scene after it is shot. It is just physically strenuous sometimes. Intense scenes sap you physically also. So some amount of rest would be most welcome but often you don't get that time. Which is why by the end of the shoot schedule I am like a rag with absolutely no energy. I need a boost!
Many of the films in Hindi films and actually Hollywood films if you think about it, are hero driven. In Indian films, when they describe a film starring an actress as the lead they say they are female centric. Honestly I am unsure I like that term because it shouldn't it be just Vidya Balan stars in Kahaani 2. What are your thoughts on that term? And do you see it changing?
You know, I don't mind the term female centric actually, given that in all these years we've not had women take center stage in films. They have not been central protagonists. Even when they have played the lead, they have been playing largely supporting roles to the men in the film – to the heroes. I do think at some point we will drop the term female centric, it won't be an aberration any more, it will probably be the norm and you won't have to specify this is a female centric film. But so far, it is still just gaining momentum. There are more films than there were eight years ago, when I did films like Ishqiya and Paa. There are more films now with female actresses in the lead, but I think before we can drop the term we need an equal number of hero AND heroine lead films.
I think I have told you that Parineeta is one of my all time favorite films, what would you say to yourself about acting and about being in films?
If I was speaking to the Vidya in Parineeta, what would I tell myself? It only gets better! Just keep the faith; there will be ups and downs. Most importantly remain the person you are because there is just one of you!
You also have Begum Jaan coming up, can you tell us about that?
It is releasing on the 17th of March. It is a period film set in Partition times. It tells the story of a whorehouse of which the line of partition ran through. I am playing the madam of the brothel. It is an exciting role. Then I start working on a Malayalam biopic, on the author Kamala Das, next month.
It must be interesting to do films from all around India…
Absolutely! I love it! I also love learning new languages. So any opportunity to do that interests me.
I have seen you on Twitter, how has that experience been so far?
You know, honestly I have not been very active because I find it very difficult to say what I want in 140 characters. Trying to cram it all up, I just lose patience. In that sense Facebook gives me a lot more leeway! I also enjoy Insta because you can just upload pictures and not necessarily write anything. You are one of the people who have a way with words; I don't so I am more of pictures person.
As you can see once again it was an amazing experience talking with her and I could have gone on much longer but it was time for her to go. I would like to thank her so much and say I will look forward to hopefully talking to you again in 2017!
Kahaani 2 opens this Friday, December 2nd.