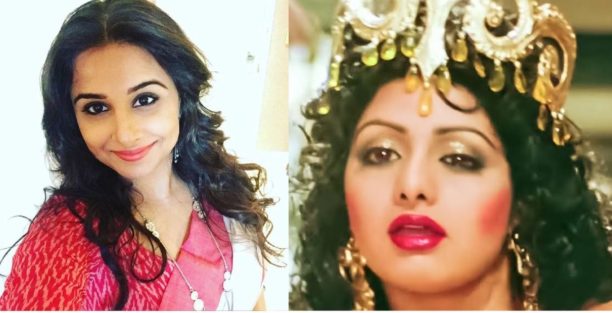 That Vidya Balan is a huge Sridevi fan is commonly known and now it seems she will be channeling one the star's most iconic moments on screen.
Destiny will see Vidya dance to Sridevi's chartbuster 'Hawa Hawai' (from the 1987 blockbuster, Mr. India) in the forthcoming slice-of-life family film, Tumhari Sulu, produced by T-Series and Ellipsis Entertainment, and directed by renowned ad-man Suresh Triveni.
Says Triveni, "I am elated to have such a cult number in the film. It plays a key role in the film and is not just a remix for the end credits. Our intention is to pay a true tribute to the original and revive it in its full glory. I am looking forward to the flower power team of Vidya and Neha (Dhupia) to break a leg."
Rajeev Surti will choreograph the celebratory track in June. The iconic number is being recreated by Tanishk Bagchi, whose recent transformations of 'Humma Humma' and 'Tamma Tamma' were big hits. The makers felt that instead of getting the track re-sung by a new voice, it would be wise to retain Kavita Krishnamurthy's voice, as the track was synonymous with her unique vocals.
Tumhari Sulu opens worldwide on December 1.