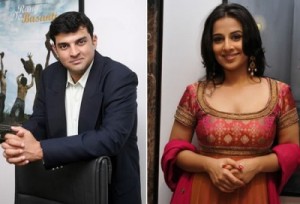 You would be forgiven for thinking that since The Dirty Picture and Kahaani it had become a little quite in camp Vidya Balan. However it seems to be quite the opposite. Vidya is working on her second project with Emraan Hashmi but its not just Bollywood's serial kisser thats keeping her occupied. If rumours are to be believed, Vidya is preparing to tie the knot with UTV head Siddarth Roy Kapoor near December.
While nothing has been confirmed of the wedding date, Vidya brought speculation to a near hault by publicly confirming her relationship with the UTV CEO. Before the public announcement both we often picture out at parties or away on holiday trips.
While discussing her relationship previously The Dirty Picture star has said "I don't have any plans yet… and there is no engagement ring yet. It's a while away and I am in no hurry. But it's on my mind and there is a plan at some point. There is someone in my life."
Not long after however Vidya said during a sideline interview at a Kahaani event that "I do believe in the institution of marriage. I will not ignore it for a long time. I will definitely get married."
The couple met on the sets of No One Killed Jessica and it is rumoured that they have been dating since then. While speculation about the couples relationship may have haulted for a short period of time the rumour mill keeps spinning faster as it is reported both are very busy preparing for a wedding in the very near future.
Other than wedding plans Vidya is set to work on her next film Ghanchakkar which is to be directed by Raj Kumar Gupta.