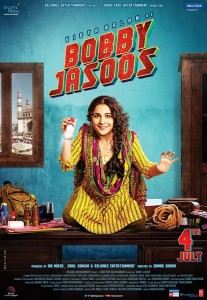 The ever-creative Vidya Balan has turned real-life detective in a cleverly, self-devised marketing initiative to promote her forthcoming film 'Bobby Jasoos', which releases on 4th July 2014 through Reliance Entertainment. The actress has started and regularly updates her own gossip blog, 'Bobby Ko Sab Malum Hai' (http://bobbyjasoos.tumblr.com/), to reveal some interesting B-Town secrets! The blog has proved a big hit with film buffs and fans alike.
Vidya Balan says of the inspiration for her blog: "From the time I signed up for the film, I would be asked which Bollywood celebrity I would like to do jasoosi on. That set me thinking and I came up with this blog, which gave me a legitimate excuse to spy. And in this case, they're just harmless tidbits. Everyone loves gossip."
Bobby Jasoos stars the talented and multi-award winning actress Vidya Balan, who once again shines in the title role of this quirky and edgy thriller. Famed for playing strong female protagonists and for breaking the stereotype of a Hindi film heroine, Vidya portrays the lady detective 'Bobby' with dedication and suitable aplomb, marking a new direction in the career of this ever-versatile actress.
The film is directed by Samar Shaikh, whose impressive cache of work includes being the assistant director on the worldwide hit franchise Dhoom, and is co-produced by Bollywood actress Dia Mirza and Sahil Sangha under their production banner Born Free Entertainment and Reliance Entertainment.