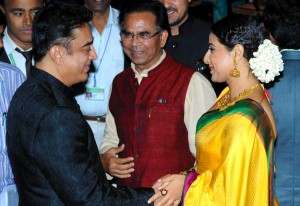 Vidya Balan, who recently traveled to Chennai for a professional commitment, spoke highly of veteran Kamal Haasan when asked about her fond memories of Chennai.
The actress and powerhouse performer revealed that one of her most cherished memories was when her uncle gifted her an autograph of Kamal Haasan, the only autograph of any actor Vidya has.
At a press conferenceVidya said, "Kamal Haasan was staying close to my relative's house and I pestered them to take me there. Being a kid back then, I thought it was easy to just walk up to his house and meet him! Of course, he wasn't at home when we went…but they gave me a photograph signed by him and I was so thrilled to get just that."
Ironically enough, the actress happened to meet Kamal Haasan on her way back to Mumbai. If that wasn't all, the legendary actor also shared the promo of his upcoming film with her for her feedback. Vidya also inquired about the martial dance form "Kallaripattu" which featured extensively in the trailer out of her passion and love for dance.
Vidya will next be seen in Hamari Adhoori Kahaani releasing in UK cinemas through 20th Century Fox on 12th June 2015.