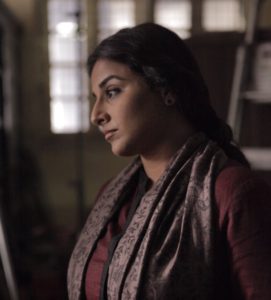 On 10th June, the Power of Three will be unleashed as the formidable trio of exemplary actors in the shape of Amitabh Bachchan, Nawazuddin Siddiqui, with Vidya Balan in a pivotal guest appearance will be seen together in Ribhu Dasgupta's emotional thriller TE3N.
In the gripping thriller, Mr Bachchan portrays a grieving grandfather, Nawazuddin Siddiqui an ex-cop turned priest and Vidya Balance a police office4, TE3N tells the mystery of two kidnappings, the investigations and builds up into an explosive, emotionally-charged film.
Not only do the trio venture out into bold unchartered acting territories but we hear Vidya Balan is one unafraid cool cat offscreen too! A source close to the set says she's extremely fascinated with ghosts and the supernatural and she even went to a haunted house while shooting for TE3N in Kolkatta!!
The source said that the crew was shooting at an abandoned jute mill near an old dilapidated house, which is rumoured to be haunted amongst the locals. While everyone else was quite hesitant to enter the house, Vidya boldly led the way and went inside to explore the house!!
Well more power to you Vidya!