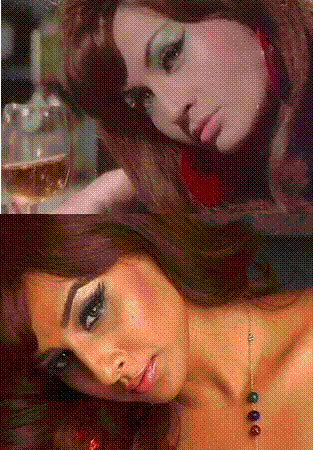 The Dirty Picture is due to set screens alight on Dec 2nd, when audiences can be transported back to the 80s when item girls stole the hearts of the nation.  In the Balaji production, Vidya Balan plays the role of Silk, an up and coming item girl of southern cinema and follows her rise to fame.  Although current actresses like Katrina Kaif and Mallika Sherawat have lit up screens in item songs in recent years, Ekta Kapoor looks to the 80s for her next film production where item girls were considered ahead of their time.  Lets take a look at some of those item girls of indian cinema who inspired the rising 80s stars and and those who inspired the makers of The Dirty Picture.
Helen (Richardson Khan), of Anglo-Burmese origin, was both October 21st 1939 and is best remember as the Bollywood item dancer of the 60s and 70s.  During her time in cinema she was considered the Marilyn Monroe of the industry.  Helen entered the industry with help from an family friend (Cuckoo) and as a way to support her family who had lived on a poor income, an issue that forced her to quit school.  Cuckoo, star dancer of the time, assisted in getting Helen a role as a chorus dancer in films like Shabistan and Awaara (1951).  It was her performance to 'Mera Naam Chin Chin Chu' in the it film, Howrah Bridge (1958), that gave her her first major hit song. Helen in the years following was in high demand with many successful roles as a cabaret dancer which lead to the nickname Cabaret Queen.  Although she had little success as a leading lead her seductive dancing made her a star and is still respected today for her contribution to cinema.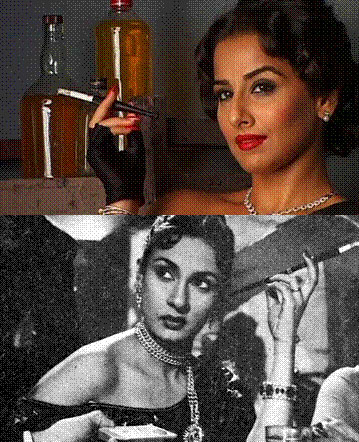 Bindu (Nanubhai Desai) was born in 1951 to a family with connections to the industry.  After the death of the father, the responsibility of the family finance was placed on Bindu's shoulders at the age of 13.  The industry gave her an opportunity to look after her family the best way possible.  Her industry connections allowed her to appear in such movies as Anpadh at a very young age where she acted along side Mala Sinha.  She acted in other films like Do Raaste where she gained a lot of interest but it was the film Kati Patang that type-cast her as a vamp.  In this film she danced to the song 'Mera Maan has Shabnam, Pyar Se log Mujhey Shaboo Kahete Hain…' which is still considered a big hit. Against popular belief at the time Bindu continued to rise high in the industry after marriage, especially with the support of her husband.  Bindu today is a Bollywood legend who's career has spanned over almost 5 decades, with over 160 movies.
(Florence Ezekiel) Nadira was born in 1932, in Israel, into a Jewish family.  She started her career in 1952 acting in Aan, playing a fiery princess and other popular films including Raj Kapoor's Shree 420.  During her career she acted in over 60 films often in a negative role.  The list of classics in which she graced the screen grew from Waris to Saagar.  She even won the Filmfare supporting actress award for her role in Julie (1975) but it is for her evocative performance to the song 'Mud Mud Ke Na Dekh', in which she portrays a woman trying to woo Raj Kapoor that lead to her super stardom being etched in the mind of cinema lovers.  The 2000 SRK starrer Josh was her last performance in Bollywood as the star died in 2006 at the age of 74 after a prolonged illness.
Asha Sachdev was a girl with big aspiration to be a leading lady within Bollywood so begun her journey at the Poona Film Institute and it was not long before she started making a name for herself. Her first film was the low budget film Double Cross in 1972 but her bold performance led to a flood of offers for similar roles. In the thriller Woh Main Nahin Asha donned red hot pants for a 'bare dare' role.  It was this look that lead to the vamp tag and from then on the item dance offers flooded in.  Arguably Asha's most memorable performance was in the Jitendra-sterrer Ek Hi Rasta to the track 'Jis Kaam Ko Dono Aaye Hain'.  While cementing herself as a successful dancer, Asha also took on character roles in films such as Priyatama which she won an award for.  Other notable films included Fiza, Aghaaz and later Aaja Nachle but it is for the bold roles and dance sequences in the 70s and 80s that she remains best known for.
Prema Narayan first started her career as a contestant at Miss India, when she was runner up in1971, and later represented Indian at Miss World 1971.  After her Miss World appearance offers started coming in from Bollywood.  Her acting in films like Maa Bahen Aur Biwi (1973) was widely appreciated but she became considered more for supporting roles or item dancing roles. An example being the hit song 'Mausam Mastana' where she sizzled in her swimming costume with a host of other beauties.  Her dancing became best known for its western style influences.  Her last appearances came in  the Sanjay Dutt-Madhuri Dixit starrer Thanedaar (1990) and Mera Damad (1995).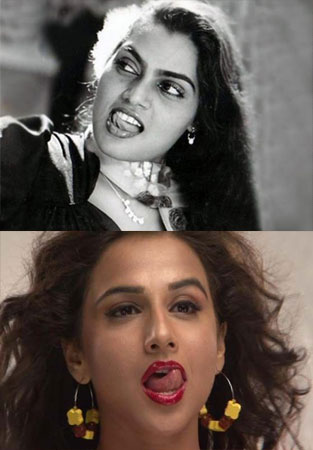 While the souther film industries were filled with item girls from Disco Shanti to Polyester Padmini, it was Silk Smitha that ruled the 80s.  Silk was born in Eluru, Andhra Pradesh, 1960 to a relatively poor family.  She only remained in school up to fourth standard and then went elsewhere to make money.  She began as a simple makeup girl at Kodambakkam, south India's film hub.  It was not long before her sultry image was place on screens for men to admire.  In her 17 years in the industry she release more than 450 films with her name which is testament to her popularity at the time.  Directors and actors wanted Silk in all their films even if it required waiting months to film her.  Although she had a stint in serious acting through films like Moondaram Pirai (later made in Hindi as Sadma), she was best known for her sultry yet sexy dance numbers with stars such as Rajinikanth and Kamal Hasan. Unfortunately like many during her time success began to take its toll as she assumed her stardom would not fade.  Smitha tried her hand at production but this proved to be no success story.  It is rumored that due to a rising debt and depression the star committed suicide in her apartment. Although Silk's life ended tragically her influence is seen still today.  One example is Shakeela has arguably taken the reign as leading item girl since Silk Smitha's death.  Both acted together in the Tamil film Playgirls where Smitha played the lead.  Through her later films she has become known for her figure and sex appeal and continues to broaden her horizons.
For The Dirty Picture team all these ladies together make up the character of Silk played by Vidya Balan.  A young girl with aspirations, sex appeal, dancing skill, leading to rising success and unfortunately personal demons leading to heart ache.  As audiences are invited to journey with Vidya through Silks life, cinema lovers can expect to be reminded of all these yesteryears item girls that stole the hearts of the nation through the decades.