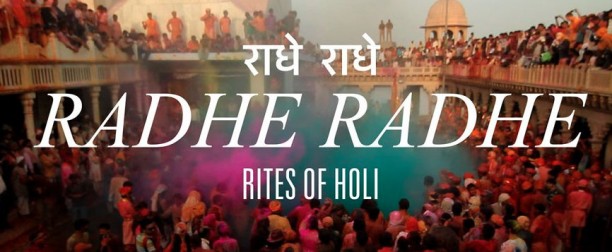 RADHE RADHE: Rites of Holi, a music and film collaboration by celebrated composer pianist Vijay Iyer and filmmaker Prashant Bhargava will be performed at Brooklyn Academy of Music's New Wave Festival December 18-20th —featuring actress Anna George, and a live score performed by the International Contemporary Ensemble, conducted by Steven Schick. Preceding the performance, Bowery Arts+Science presents an exclusive Conversation with the Filmmakers of RADHE RADHE at Bowery Poetry 6:30pm on Monday, December 15th, moderated by Janet Elber, Artistic Director of Martha Graham Dance Company.
Inspired by the Holi festival, RADHE RADHE: Rites of Holi is one of the most exciting commemorations of last year's 100th anniversary of Igor Stravinsky's Rite of Spring. Celebrated filmmaker Prashant Bhargava and composer Vijay Iyer have sculpted an original performance of live music and film upon the fundamental structure referenced by the famed Russian composer—but in an entirely new cultural framework. RADHE RADHE is a journey of sexual desire and primal devotion to the Goddess Radha. Bhargava's lush film throws us in to the choatic and colorful celebration. Raw and vibrant images of festival are contrasted with the performance of Anna George as the Goddess Radha. Vijay's score performed by him and the International Contemporary Ensemble is moving and gracefully dissonant. RADHE RADHE transports Stravinsky's semi-mythological tale of mysterious primordial Russian rituals into an actual religious festival.
Iyer's "shimmering" score with Bhargava's "visually stunning" film is praised by NPR as "one of the most brilliant and exciting commemorations of the 100th anniversary of Igor Stravinsky's Rite of Spring." The collaboration explores a springtime rite in an entirely new cultural framework: the Hindu festival of Holi in the Braj Region of Uttar Pradesh, famous for its colorful celebration of the love between Krishna and mortal-born Radha. Venerated during Holi, Radha's relationship with the god Krishna "personifies our interactions with the forces of nature," Iyer points out. With Cinematographer Craig Marsden's eye for detail even amid the riot of color and frenzied crowds, the film captures not only the euphoric celebration of Holi but also the primal devotion, including a more volatile element in the throng. Released by ECM on Blu-ray and DVD, RADHE RADHE: Rites of Holi is described by the Washington Post as an "spellbinding and rousing" experience.
Director Prashant Bhargava, whose New York Times Critics Pick feature film Patang (2012) was praised by Roger Ebert as "masterful," explains the impulses behind RADHE RADHE: "I was awestruck when I witnessed the feverish devotion during the colorful celebrations of Holi in Braj for the Goddess Radha. Her spirit was adorned and awoken by devotees. The film, structured in twelve sections like Stravinksy's Rite, is a fiery exchange between the devotee – captured during the madness of the actual festivities in India and the goddess Radha, beautifully embodied by actress Anna George. Honored to have collaborated with Vijay; his live orchestral score elevates the work to unexpected heights."
The 6:30pm Monday, December 15th Conversation with the Filmmakers at Bowery Poetry (308 Bowery, NY, NY) will be moderated by Janet Elber (Artistic Director, Martha Graham Dance Company), with filmmakers Prashant Bhargava (Director/Editor), Anna George (Actress, "Radha"), Nikhil Melnechuk (Creative Producer), Craig Marsden (Director of Photography), Jay Silver (Cinematographer), Mimi Bai (Production Designer), and
Sheena Sood (Costume Designer), and is offered free of charge by Bowery Arts+Science.
For further information: http://www.boweryartsandscience.org/