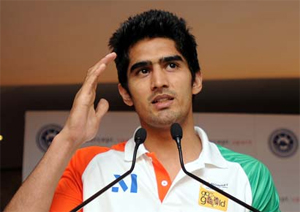 Olympic Bronze medal winner boxer Vijender Singh is taking on a new challenge and becoming an actor in Kabir Sadanand's Fugly. Now he does play a boxer in the film so the character fits, but it is not all done in the ring and we hear he is a natural in front of the camera! Check out what he had to say on his debut film, about Akshay Kumar, what happened his first day on set and why he thinks we should all see Fugly!
Is acting something you always wanted to do?
I belong to Punjab where every men dreams of becoming an actor one day. We are a huge fan of Akshay Kumar, Dharam phaji and Sunny phaji. Although I never dreamt of becoming an actor but somewhere I knew one day I will be a star.
Tell us about how you became a part of Fugly.
All thanks to Akki phaji. He was the one who asked me to join the cast and I blindly followed his instincts. I am huge fan of Akshay sir. One day when I was training with him in his gym he asked me will you act and I immediately said yes.
Tell us about your character.
My character is a very Haryanvi/Jat character. Everyone in north will relate to him. I play Gaurav whose dream is to become a boxer. At the same time he is also a politician's son. I am the guy who has the guts to face anyone for his friends. At the same time he has a heart of gold.
Did you use your boxing and discipline in any way to get you ready to for the film and to be the character?
I play a boxer in the film so it was easy to relate to the fighting sequences. But if you ask me, both are very different fields and the style of working and the training are very separate. Only thing common in boxing and acting is the professionalism.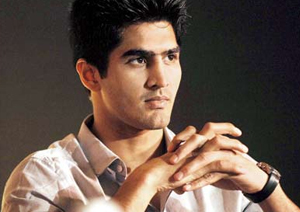 Also, in my interview with director Kabir he said he screamed, shouted and laughed working with you all in workshops, would you say that was true? How was it to work with him?
That's his way of training us for the role. He had these weird ways of training. One day we were animals, the other day we were not supposed to do anything. Probably he was making us teach the method way of acting. If given an opportunity to do a film with Kabir I would jump on it once again.
What would you say Fugly means?
Fugly means Vijender Singh…hahahaha…that you will get to know on June 13th. I hope you are watching it. Do watch it at the theatre near you please. Lot of hard work has gone into it.
Fugly has been described as an entertainer with a message, would you agree and what would you say that message is?
By saying it's entertainer with a message, it would mean it's not a heavy film or a dark film or a preachy film. It's a film with message which lot of people will take back home. They might not get it immediately but they will think about it twice later.
So first day, first shot, what were your thoughts?
I clearly remember my first day shot. I had joined the team directly from an international game I had gone to play. I just landed and they directly put me into a dancing sequence. I was not prepared, I hadn't practiced, but I gave my best shot. Things went well from there on and I have thoroughly enjoyed my journey.
So boxing or acting?
Why not both? I have done and will still do well in boxing and at the same time will deliver one after another superhit too…hahahaha…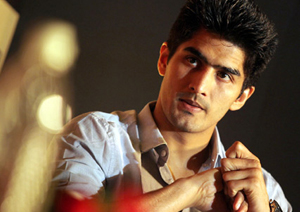 What was it like to work with the other members of the cast like Mohit Marwah, Kiara Advani, Arfi Lamba and Jimmy Sheirgill?
Jimmy sir is an institution, but many people don't know Jimmy sir the way we got to know him on the sets. Arfi is our Google – whatever doubts you have one has to go to him and he would solve it for us. He has helped me a lot. Kiara is lot of fun. She used to bring lot of fun element on the set. Mohit is a serious guy but once you start knowing him he is total fun too.
So tell us about doing that video with Akshay and Salman.
Oh my God! First film with two legends now that's what I call a debut. Both are legends; just to be around them is a learning experience. I am huge fan of both.
Speaking of the music, what are your thoughts and do you have a favorite song?
The entire album is for the youth. It's a fun album. My favourite is 'Good in bed'. You have to listen to it to enjoy it. My wife had problem earlier she kept on asking me if it's bed or bad. But now since the song is out and the way it has been appreciated she is happy.
Did you enjoy shooting the music videos?
Acting and boxing seems to be easy in front of dancing. But it has it's own charm of doing music video.
What did you enjoy the most about being a part of Fugly?
It's not just one thing I enjoyed the most. I enjoyed being the part of this entire journey of filmmaking. It was a learning experience. The lights, the camera, the dialogues, the emotion all of it was learning for me.
You also recently trained Sonakshi Sinha for Holiday, can you tell us about that experience.
Hahahaha…I did that on the request of Akshay sir. But I must say Sonakshi was really good in learning the tricks and basics of boxing. It was fun working with her. One day hopefully I will get a full fledge film with her too.
Will we see Mr. Vijender Singh again on the silver screen?
Hopefully yes…I hope audience loves me in the film and wants to see me often on the silver screen. After all what I am doing is for my fans only.
Also starring Mohit Marwah, Kiara Advani, Arfi Lamba and Jimmy Sheirgill, Fugly is in theaters today!