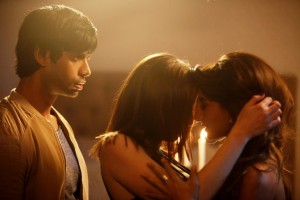 Vikram Bhatt's upcoming film 'Love Games' has been creating quite a buzz for its foray into the scandalous world of swingers. But as bold as the topic may seem, the filmmaker reveals that he came up with the idea for his film when he came across people who made shocking revelations about their sex lives and the relationships with their partners. Vikram adds that the sexual experiences that these people shared with him, especially a girl who made some startling confessions about her sex life, is what prompted him to explore the idea further.
Talking about the girl's confession to him, Vikram says, "She spoke to me about having had threesomes, while hoping that I wouldn't judge her. I think it took a lot of courage for the girl to share it with me on just our third date. Fate did not allow the affair to last long, but her confession stayed with me. I saw the makings of a film in her sexual deviance. I wanted to explore this world of threesomes and swinging." As for his own reaction to the girl's honest confession, Vikram shares that he didn't judge her at all. "I didn't judge her. Rather, I found it exciting."
Vikram admits that when he began working on the film, he realized that the core of these forbidden behavior is also love. "May be some did it to escape commitment and others did it because that was the only way they knew how to find love, but the core of it was love!" quips Vikram.
Vikram adds that when he started doing further research for the erotic thriller, the real-life sex stories of people amazed him. "A husband, who was involved in swinging, confided in me that contrary to what is the perception, it is actually the women who hold the key to this arrangement. If they are game, it's game on. Another wife very confidently revealed that she feels a sense of power when her husband sleeps with another woman but comes back to her. She told me, 'Life is too short to crave for your desires. I enjoy being objectified. It's better than cheating. It is about deep trust'," recalls the filmmaker, adding that this inspired him to write the first line of the script — This is a story of a boy who was looking for love in the world of lust.
So is it easy to find love in the world of lust? "It is easy to find partners, not love," says Vikram promptly. He elaborates, "Dating is on your fingertips. It is a playfield of relationships with the Internet springing up more options. Man has fallen victim to seduction since times immemorial. How many people can resist it, now that it is so easy?"
The film has been written and directed by Vikram Bhatt and presented by T-Series and Mahesh Bhatt.Produced by Mukesh Bhatt & T-Series, 'Love Games' stars Gaurav Arora, Tara Alisha Berry and Patralekha and is slated to release on 8th April, 2016.