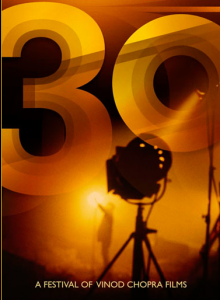 Vinod Chopra Films- 30 Years of Striving in Cinema: from Sazaaye Maut to 3 Idiots, the last thirty years have been an incredible journey for Vinod Chopra Films. While this journey has had its ups and downs, the idea with which we began has stayed with us, inspiring and governing everything that we do:
"Chase excellence and success will follow"
Vinod Chopra Films, in association with PVR, is pleased to announce "The Idea That Survived: A Retrospective", to be held in PVR Cinemas across the country between March 29 – April 4, 2012. This 6 day long celebration will bring all our films to the audience once again, complete with the effects of modern day technology, making the movie viewing experience richer, more fun.
The festival will see screenings of almost all the titles produced under the VCF banner over the years over a span of 6 days. Audiences that have missed out on the magic of the music of 1942-A Love Story on Dolby, or the impact of Parinda or simply the warmth of Munnabhai will get a chance to catch their favourite films once again in the best movie viewing environment.
Prepare yourself for a show-reel of some of the most loved moments of Indian cinema. A Retrospective like never before, brought to you by film-makers who strive to create entertaining and well meaning cinema, always.
To check out Vinod Chopra Films' journey in cinema over the years watch this!
httpvh://youtu.be/gfwHNagSMUI