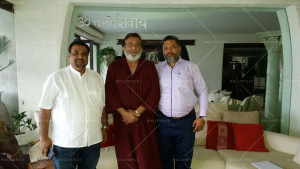 Director Atul Garg has roped in senior star Vinod Khanna to play Buddha in his film, Amrapali, that went on the floors recently. The filmmaker shares that it was the veteran actor's personality and spiritual background that made him the first choice. "Vinodji has the rare combination of a regal aura and a calm demeanor that can only come with a background of practicing meditation and having a spiritual thought process. There is no actor who would not want to play the role of Buddha, but Vinodji was perfect for the role. It would take any other actor months to prepare and attain the calm and meditative state, but it would be easier for Vinodji as he is already into vipassana. His spiritual background and awareness because of all the time he spent with Jiddu Krishnamurti and Osho makes it easy for him to get into the character. Only a seeker of truth can understand Buddha's philosophy," explains Garg.
The director adds that the star was equally excited about the subject when he sent him the script in March and he is well aware of the philosophies too. They will start shooting sometime early next month. "I'll need to shoot with Vinodji for at least a month," says the director. Talking about the film, Garg shares that unlike Lekh Tandon's 1966 Sunil Dutt-Vyjayanthimala starrer, Amrapali, which was primarily a love story, this film is a social commentary on an era when Buddha ruled as a spiritual king. "It is not Amrapali's story, but a story about Amrapali's time," he adds.
Newbie Jinal Pandya will be playing the `bride of Vaishali' Amrapali, who mesmerised several royals with her beauty but was herself so influenced by Buddha after serving him a meal that she renounced her position as state courtesan to become his active supporter.