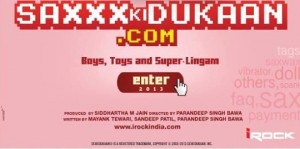 Bizarre comedy gets redefined in Bollywood as Vir Das joins hands with iRock for Saxxx Ki Dukaan.com.  While iRock is on the forefront of quirky, edgy and youth centric cinema, Vir Das has gained ground as the latest youth icon who is real and who every college goer can easily relate to. Saxxx Ki Dukaan.com promises to bring out the best of Vir Das as the story is absolutely fresh and a first time ever in Bollywood.  The moot point of the plot is illegal , yet available online sex toy shopping.
The tag line for the film is – Boy, Toys and a Super Lingam which explains it all.
"I am extremely excited to cast Vir Das in the lead role for Saxxx Ki Dukaan.com. It's an edgy, youth-comedy for release next summer and Vir has been leading the pack in this genre with films such as Delhi Belly and Go, Goa, Gone. Every year, iRock pushes the limits in terms of edginess and SKD does that, post our release of DISCO VALLEY this year. Also, Vir has two avatars in the film, one as Luv and other as SUPER LINGAM. This will be a rage amongst his film and stand-up fans. Mad will get madder and Bizarre, will hit the roof with this comedy. Watch out for Vir in this film", said producer Siddharth Jain.
Says VIr Das, "My character goes through a certain turmoil, inner conflict and metamorphosis from Luv Sharma to Super Lingam. The journey of this new entity is filled with bizarre situations, chaos and comic capers. The characters and the plot put together lends to a truly new age comedy. I can't wait to start shooting for this mad film".
iRock has recently finished Disco Valley, a mad-youth-comedy in collaboration with Viacom18. Currently shooting a serious issue based film Kill the Rapist?. The slate for the next few months includes Size Zero amongst other films. The company is focussed on creating a bank of content with a strong development team and put a tighter and heavy pre production in place to tackle stringent cost of production.
The last film from iRock's stable is Ragini MMS, shot in two languages – Hindi and Telegu in 13 days and under Rs. 1 cr budget. A feat rarely achieved in the industry.
Casting for Saxxx ki Dukaan is heavily on and the shoot begins by end of this year.