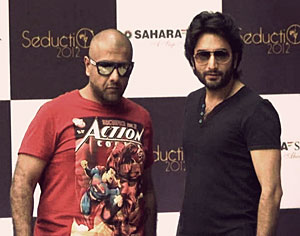 Vishal Dadlani, Shekhar Ravjiani, Farah Khan and Sunidhi Chauhan have apparentely been harrassed ever since the song Sheila Ki Jawaani released, by a guy from Holland. The reason: He claims Sheila Ki Jawaani was copied from several of his songs. This is the first time composers Vishal-Shekhar are being accused of plagiarism.
Recently Vishal got tired of the harassment and thought it was time for payback. He put the number of the guy on Twitter and called out to all his followers to send him crank calls. "This guy, +31613566735 has been harassing Shekhar, Sunidhi, Farah, me, ever since Sheila came out. He's very irritating. Time for payback. If any, or many of you could RT/post this number, you'll earn my thanks. This guy is utterly nuts, keeps crank-calling. See if he can take it! ;)"
BollySpice called the number and got hold of the guy, named Prem Marhe, a singer and composer who says he has written songs for a few singers such as Kumar Sanu and Kunal Ganjawala. He gave us a similar statement as he did to a leading newspaper, but he also shared a few other things. "I don't understand how asking for the truth is called harassment. These people copied the words, the concept, dance moves and even the dresses, which the dancers are wearing from my three videos and a photo, which are on YouTube. They mixed it up and created Sheila." He adds: "So, I will harass Farah, Vishal, Sunidhi and Shekhar for life! These people have stolen my work, so they will have to pay the price!"
Adding: "I wanted to resolve the issue peacefully. I had called Farah, but she abused me. I replied in the same way. My experiences with Shekhar and Sunidhi were no different."
Prem is aware Vishal has put his number on a social network, but he says he has never spoken to Vishal. "I never spoke to him on this matter. I only spoke to Shekhar, Farah Khan and Sunidhi."
Ask him why he has not taken the matter to court, he says: "I had lodged a complaint in March 2011, when I found out about Sheila Ki Jawaani. Because it is an international case, the Indian embassy sent this to Delhi. Nothing is happening in this front currently. But I am a fighter and believer of justice and will fight this till I get what is rightfully mine."
Prem goes one step ahead in the conversation and challenges Vishal-Shekhar to take him to court. "I dare Vishal and Shekhar to take this matter to court. I have a never losing case."
Vishal reacted via Twitter on the matter: "Prem Marhe is a madman, and Sheila has no similarity in music or concept to anything he's done. His music is puerile shit, and our papers have just given him exactly what he wanted."
We have all the videos for you so you can be the judge of things.
What do you think?
Sheila Ki Jawaani
Tees Maar Khan – Sheila Ki Jawaani

Dance moves