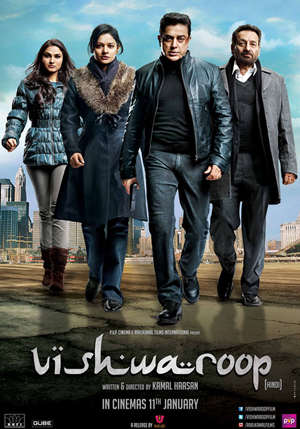 Being a Kamal Hassan film, Vishwaroop had interests invested in it way before the filming started. The knack that Kamal Hassan has at bringing something new to the industry through film was evident again so while I am one of those that loves a good commercial film, Vishwaroop clearly was nothing of the sort. With Rajkamal International coming back to produce this Kamal Hassan written and directed feature, the film is as action packed and suspenseful as the trailer led us to believe.
The movie opens with Dr Nirupama (Pooja Kumar) talking to her psychiatrist about her husband Vishwanath aka Wiz (Kamal Hassan). Married to him out of the convenience he was a green card holder in the US, she overlooked his age and other issues but when it came to the point when she finds the right person that she feels for, she wanted to be sure she wasn't the only one doing the dirty deed. Now, the psychiatrist is confused and so are we. After all, domestics are common and rationalizing an affair is what most unhappy partners do. That is till Kamal Hassan makes his entrance. Then everything sinks in. His age, his behaviour and his manner that makes you think his preference lies elsewhere. Nirupama advises her doctor, and us, she hired a private investigator to do the digging and he becomes our main story follow character. But what seems like a domestic issue between 2 individuals that are bound by marriage, turns into much more when the private investigator loses his target but ends up getting killed on his pursuit a secretive group of men seeming to be working for a disabled man named Omar (Rahul Bose). Why was he killed? Who is Omar? And how this all links back to Wiz? Is something that must be seen to be understood.
The normal format I take in a review consists of discussing a bit about the performance of each character then moving onto the crew. But with Kamal Hassan at the helm, one can't really find words that haven't been said before. As Wiz, he cannot be seen as anything more than what he shows you but the catch is how much more he actually is. Not once has he overdone his role. Pooja Kumar who plays his wife may not have been around for a long time but there is nothing short on her skill. It would not be fair to say she provides the comic relief in the film since it's the dialogue is what gives you the giggles. Andreah Jeremiah makes a beautiful entrance as a Kathak dancer Ashmita in Kamal's class but as the story unfolds, a hidden extra kick in attitude comes up her character. Shekhar Kapur follows suit but next the main man Kamal Hassan, its Rahul Bose that stand out the biggest for obvious reasons. The stern, sinister and calculative exterior is only enhanced by prosthetic makeup. Yet you will be farfetched to find another actor that shines as much under all the restrictions. Jaideep Alhawat downplays the second in charge well while still retaining his own identity in the film. Samrat Chakrabarti is apt.
From here, we move on to the technical side of things. Honestly speaking, there is very little that is to be said about the technical side of the film. The reason? Sheer brilliance. Right from the cinematography (Sanu Varghese) to music/background score (Shankar-Ehsaan-Loy). The way the team has come together and become the backbone support to the mastermind behind the camera is something definitely worth watching and I personally, would love to see again. Each aspect is crisp clear and balances the film. Editing by Mahesh Narayanan is only person that could have used his craft a little better. With a story teller like Kamal at the helm, we mustn't forget that the proceedings need to be taught as well as captivating. The trailer showed that there is more than meets the eye for this film and its characters and that's what Kamal delivers. The sensibility and detailing he has as an actor is common knowledge and Viswaroopam he brings it to the fore as a writer and director once again after his 2004 critical and commercial hit Virumaandi. An example can be seen in the pigeons that are seen in the posters. Another seen-to-be-believed act of brilliance by the legend.
It would be juvenile to say Vishwaroop is not without flaws. However, what unfolds in front of your eyes stays with you longer than the editing that needs a little work. Some may even complain of repetition with a few scenes. In defense though, one would not have figured out the proceedings without them. One thing can be said, this feature is not for mindless movie lovers. You need to use your brain a little. Yet, this is not a setback for some to dismiss it as a little boring in parts. Vishwaroop can be commended for many things as even beyond the controversy that surrounds it with the content, you can be safe in saying that you have watched a film that is both up to date in content but in technical brilliance. While some may say this is an Indian version of Mission Impossible, this writer would prefer to step away from comparisons since the story has not be handled with such maturity and sophistication in her lifetime.
Even as this reviewer finishes with a big thumbs up for the suspense action flick from the Maverick that is Kamal Hassan, the only thing that leaves a feeling of disappointment after watching Vishwaroop is the delay, and subsequent anticipation, for the release of Part 2.