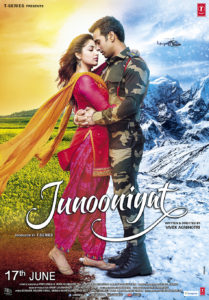 While most filmmakers these days believe in having extensive workshops for their actors to get under the skin of their characters, Vivek Agnihotri feels zara hatke. The filmmaker – whose upcoming intense love-story is the Pulkit Samrat-Yami Gautam-starrer 'Junooniyat' – shares that he doesn't believe in giving homework to his actors especially in the romance genre.
Agnihotri says, "I do not believe in over preparing my actors, especially if the genre is romance. Every actor's realisation of romance is unique. Unless you don't give them that space, they cannot breathe and the performances do not look organic."
However, since Pulkit plays an army man, the director felt it vital that he get the mannerisms right and for that the actor did meet and interact with the real defense personnel. "Yes, we ensured that Pulkit meets Army captains and learn basic mannerisms from them especially in the situation where they were to find a lone girl in a camp full of jawans."
The film is set to hit theaters on June 17th!