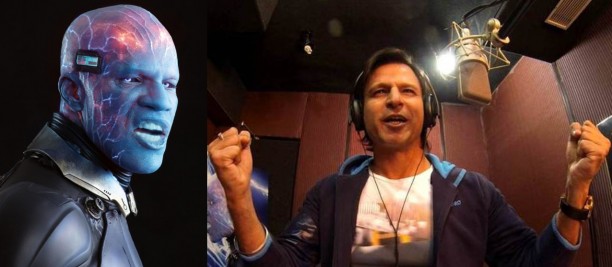 Very soon you will be hearing Vivek Oberoi on screen.
Yes, hearing.
The actor was selected by Sony Pictures to dub for the Hindi version of The Amazing Spider-Man 2," directed by Marc Webb.
Oberoi had received much praise for playing the part of Kaal, the baddie in the 2013 action film, Krrish 3.
In fact, his performance prompted Sony Pictures to approach him to fill in the Hindi shoes for Spider-Man's enemy "Electro" –  the super villain with the power to control electricity.
According to the Times of India, Oberoi stated the unexpectedness:
"The call from Sony Pictures was like a bolt from the blue. Someone saw my performance as Kaal and thought that I could do the voiceover for Jamie Foxx. It's a natural extension,"
Oberoi described the challenge and how the project was unique for him; according to TOI:
"It was two days' work but tougher than I had imagined. I had to hear the voices in English, read the Hindi script and then speak the lines, making sure my lips were in sync with the original English words. It was not like anything I'd done before,"
However, Oberoi is no stranger to being a voice over.
He had dubbed for films such as Independence Day and TV shows including Small Wonder during his college days.
In fact, the actor has also dubbed after becoming a celebrity.
He dubbed his own role for Prince into both Telugu and Tamil; as well as his role for Rakta Charitra (parts 1, 2) into Tamil.