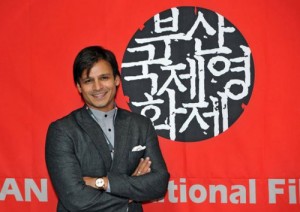 Actor Vivek Oberoi is a man of many dreams. He is a well known and respected actor with many fabulous roles to his credit and some excellent ones in his future. But as we said he is a many of many dreams and he has now stepped into producing movies. Dekh Indian Circus (aka Watch Indian Circus) follows the story of an impoverished couple who dream of one day being able to afford to take their children to watch the circus. Set against the backdrop of a corrupt local election, the film at its core is an often hilarious celebration of the human spirit. Commenting on the choice of script he said, "Watch Indian Circus is a true Indian film about Indians and the hardships they undergo. When the film came to me I felt that I needed to do my bit by getting it out for all to see and it was something that I believed in." He adds, "Box office economics dictate that Bollywood has to provide for their massive domestic audiences that are usually looking for an escapist sort of world. So I think it's only essential that the big studios shouldn't avoid producing films on real issues."
The film was screened at the 16th Busan Film Festival in Korea and won the Best Film Award from the some 300 or so odd number of films representing some 70 countries. And the icing on the cake is the fact that Watch Indian Circus is the first Indian film to win a top honor at the event which is considered as the 'Cannes of Asia'. The screening was attended by Vivek and his lovely wife Priyanka.
On getting the news of the big win Vivek tweeted saying, "Never in our wildest dreams did we imagine that our first film, this little dream that all of us have dreamed together, would win the best film award! To see Korean and international audiences all together in one theatre, watching our film, laughing, crying and coming out with hope in their eyes and smiles on their faces was the most rewarding experience for our team."
An elated Tannishtha Chatterjee, who plays the female lead in the film said, "I knew the film was going to Busan. But Dekh Indian Circus winning is really delightful news. It proves Indian cinema is no longer perceived in stereotypical ways by the international audience and critics."
Apart from this, Vivek Oberoi is currently working hard on two projects Zila Ghaziabad and Krrish 3.
From everyone at BollySpice we wish him the very best for his future ventures.