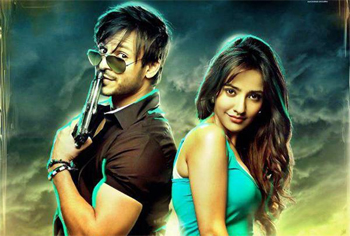 Since the days of Saathiya, fans have been eagerly waiting for Vivek Oberoi to star in a 'prem kahaani' filmi romance with a happily ever after. They are finally getting their wish to see the charm, the smile, the dance and the romance this Friday, but it comes with a little twist. The talented actor is starring in the romantic Jayantabhai Ki Luv Story, but in the film Vivek does not play your standard hero. JKLS is a story of a gangster who falls in love. Directed by newcomer Vinnil Markan, the film also stars Neha Sharma as the object of Vivek's tough bhai's pyaar. We were very lucky that the actor took time away from his wife Priyanka and new baby to give us some scoop about his character, what he found challenging and how much his fans support means to him!
What was it about Jayantabhai Ki Luv Story that attracted you to the film?
I loved the story, the script was great. I immediately saw it as a combination of my two past roles, Adi from Saathiya and Chandu from Company – I had to sign it. Jayanta is very vulnerable and emotional. He's very real, that's what makes him endearing and entertaining.
I read this was a gangster with a heart, can you tell us about your character?
Jayanta is basically the wrong bhai at the right place. While he thinks of himself as a serious bhai and is pretty good at whatever he does, Jayanta is also a fun-loving, good-natured guy but he's naive which creates problems for him.
How did you merge and show both the gangster and the loving aspects of your character?
That was the exciting and challenging part! Bringing in elements of the adorable lover boy of Saathiya and mixing it in with the tough bhai of Company/Shootout at Lokhandwala. Jayanta is comfortable bashing up 20 guys and sending them to hospital but in front of Simrin he's scared to express his feelings…I found that very cute!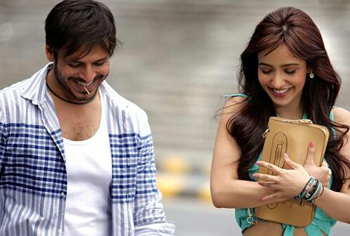 Was he a fun character to play?
Jayanta bhai, yes he was – I had a lot of fun shooting for the film.
This is your first film with Neha Sharma, how was it to romance, dance and act with her?
Neha has a very warm and friendly personality, it was a lot of fun working with her.
Tell us about working with Kumar Taurani and Tips.
Working with Kumarji and Tips is like working with family, a wonderful experience as always. He's given me diverse roles like Prince and now Jayanta bhai that have been great experiences for me to play. I'm humbled and grateful for the amount of faith he has in me.
The music is fabulous. Do you have a favorite song?
Thoda thoda it's romantic, sweet and beautiful.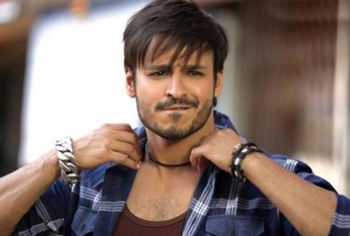 Fans have waited a long time for a love story from you, what can they expect to see in Jayantabhai Ki Luv Story?
It's a stress-buster, an entertainer with something in it for everyone.
Can you tell us anything about Krrish 3?
It's the first time I'm playing a role of not a villain but a super-villain! We've worked very hard over the last couple of years on Krrish 3 and hope the audience will love it as much as I do.
I love how you get soo lost inside your characters. How do you prepare and get into character for you film?
Research and preparation is key. For Chandu in Company I visited slums, learned the slang and mannerisms. With Pratap Ravi, I visited the place where he lived, his supporters, his enemies, I did a lot of research about him – not just his life story, but what made him change. Similarly for Satbir Gujjar, my character in Zilla Ghaziabad, he was a teacher. I did a lot of research on him, his town, the people. Kurbaan as well, I did my background research and hired a coach to practice speaking with an American accent.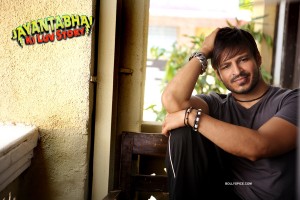 Looking back over you career what would you say?
I am very happy today. I feel in life people forget to be appreciative and thankful. For me the important thing in life is to stay happy. I have no regrets, life is too short for that. It's important to accept both success and failure. I came into the industry over 10 years ago and I have 5 releases this year alone, I'm happy with who I am.
Do you have a message to your fans?
A big shout out and a huge THANK YOU from the bottom of my heart to all my amazing fans for your constant love and support over the years! Your love and duas for me, my family and my movies mean the world to me! Please watch Jayantabhai ki Luv Story in cinemas this Friday Feb 15 2013 and Zilla Ghaziabad on Feb 22. Tweet (@vivek_oberoi) or Facebook (facebook.com/officialVO) me your reactions.
Congratulations on the birth of your sweet baby boy! What are your thoughts and feelings on being a father?
Holding my son for the very first time was the most beautiful moment of my life. Priyanka and I are elated to be parents, looking forward to raising our beautiful son. I'm loving every minute I have with him…life is beautiful!
You can enjoy Vivek's performances in Jayantabhai Ki Luv Story this Friday Feb 15 2013 and then we only have a week until Zilla Ghaziabad releases on Feb 22nd. With so much going on and the birth of his new baby I would like to thank him for taking the time to give us such fabulous answers our questions!