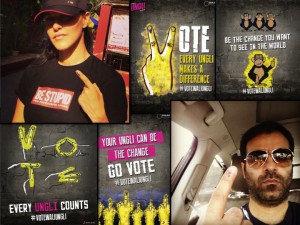 With Elections results making headlines, the Ungli team is happy to have been a part in empowering people to practice their right to vote. Proving true to its theme, this Dharma Productions' film has been making news for its offbeat and unique subject. As the movie revolves around 5 friends taking matters in their hands to change the system, the Ungli team started a campaign with the hashtag #VoteWaliUngli to promote the importance and need to vote, during the recent state elections.
With its strong digital presence, the film's official handle held a contest around the importance of voting; it aimed at promoting people to send their 'vote-selfies'. The contest was well promoted on all the official plug-ins of the film, including Facebook, Twitter, and Instagram. On the day of Voting in Mumbai, people from the city were delivered flyers from the Ungli team, encouraging them to cast their vote.
With a reach of about 2 million timelines, the contest garnered around 10 million impressions. It received more than hundred entries with the digital audience enthusiastically sharing their selfies after casting their votes. Among the celebrity clan, Tarun Mansukhani and Neha Dhupia flaunted their #VoteWaliUngli with the hashtag. The hash tag was in Mumbai trends map amongst major trending topics on the politically significant day.
Dharma Productions is breaking the stero-typical barriers by producing a sleek, edgy and vigilante drama. The digital campaign has been well-crafted handling the subject of the film, sensibly. The film intends to give an interesting take on day-to-day problems faced by a common man and how a gang of five friends (signifying the five fingers) choose to stand up and fight for justice with a very interesting and liberating approach. Ungli stars Emraan Hashmi, Kangana Ranaut, Sanjay Dutt, Randeep Hooda, Angad Bedi and Neil Bhoopalam in the lead. The film releases on November 28, 2014.